People come up with all kinds of excuses to skip working out, what are the best you have heard?
Success in fitness, bodybuilding, and health requires perseverance and ingenuity – you cant give up every time there is a little obstacle.  Although I have never been injured in the gym, because of my very active lifestyle I am getting injuries all the time.  If I stopped working out every time I had an injury I would not have the physique I have today.  To be successful in bodybuilding, you need to learn how to work around injuries.  What people fail to realize is the healing effect of exercise, not only physical healing but mental healing as well.  Many an aspiring bodybuilder has gotten an injury, stopped working out because they "couldn't", and then got so depressed that they gave up lifting for good.  Avoid the downward spiral by doing what you can!  If fitness is a priority, you will find a way to make it happen.  If fitness is not a priority, you can make excuses :)
As many of you know, a week ago I got impaled and they couldn't get it all out so infection set in.  Remember, "working around injuries" does not mean being a macho-idiot and doing 1RM squats with a fractured foot. "No pain, no gain" does not apply to pain caused by stupidity!  "working around injuries" means following doctors advice precisely to heal the injury asap while using your resourcefulness to workout as much as you can.
My hand is so painful that I cant even touch it, grasp a pencil, or wiggle my fingers.  Doctors orders are: "keep hand in splint, do not use at all, keep elevated, and warm salt water baths 4x daily".  Before you look at the below pictures, how would YOU workout with these limitations?  How can you do a hand-less workout?  This week I have done a lat workout, a chest workout, core workout, a shoulder workout, and an hour every day – how did I do this while following doctors orders?  Scroll down to see:
|
|
|
V
|
|
|
V
|
|
|
V
|
|
|
V
|
|
|
V
|
|
|
V
Getting daily cardio was the hardest to figure out because keeping a hand elevated while doing the cardio rules out about every form of cardio I know of.  I rigged up a sling by using a hanging ab strap on my pullup bar and putting my bike trainer under it.  Pretty slick, huh?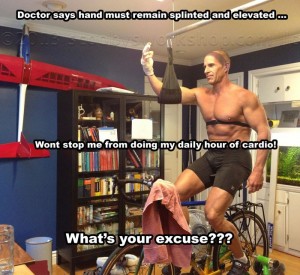 How about a chest workout?  How can you workout pecs when your hand cant touch anything?  This requires a pec deck machine: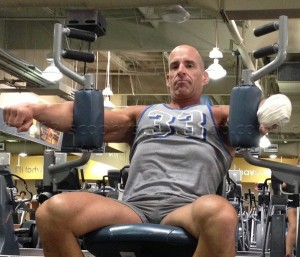 Now granted, just using a pec deck as a chest workout isn't great but its infinitely better than nothing!  Shoulders are easy too with a side raise machine below: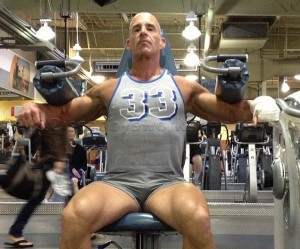 Again, just doing side raises for a shoulder workout is not a particularly good workout but its infinitely better than nothing.  Lats are tough because all lat exercises require pulling and I cant even use a lifting strap.  Hanging ab strap pullups are awesome!!!
Best excuses to skip workouts …
People come up with all kinds of excuses to skip working out, what are the best you have heard?