The best airline value is not necessarily the cheapest ticket.  To find the best value is a combination of price and the benefits you receive.
Budget Travel
I was a budget traveler for the first 40 years of my life and I am proud of my skills in this area.  When you are young and trying to save a down payment for a house, "value" is not important, minimizing travel cost is.  I became an expert at budget travel and one thing I found out quickly is that often "budget" meant more fun.  Budget travel is how I stumbled upon bike tourism.  It started as a way to save from having to get an expensive Eurail Pass but then I discovered that it was actually a LOT more fun that traveling by train.  As a budget traveler in Europe I would stay in Youth Hostels and eat out of grocery stores instead of restaurants.  Although I am no longer a budget traveller, I use what I have learned to maximize travel enjoyment.  I have nothing against a bad night sleep in an uncomfortable bed but its gotta be for a good reason.  If I am biking in Vietnam, I will not choose my route based on where the 5 star hotels are, I will choose my route based on where I want to go.  This often means that it will take me to remote parts of the country where "hotels" do not even exist and the only option is a what is called a "homestay" which means that a family lets you stay in their one room open air bamboo house on stilts without any dividers and simply mats and blankets on the floor for sleeping.  I am not a marshmillow and I will choose experiences over comfort every time.  Having said that, there is no "experience" benefit to a sleepless night in a 16 hour flight in a coach seat.  There is no "experience" benefit to being in a Youth Hostel where 20 snoring, coughing people are packed into one dormitory room keep me from sleeping.  I have money now and use it judiciously to enhance my travel experience.  This is what I mean by "value".
Lets look at the benefits that I personally take into account when calculating value in my airline flight purchases:
Waiting in lines.  At age 60 my life is more than half over.  Since I am retired I cannot say that "time is money" but I hear the clock ticking and I dont want to waste those ticks waiting 90 minutes to check in and get thru security.  Typically when you get a business class seat, these times are drastically reduced and that is an big value to me.
Lounge facilities.  The airline lounge is a huge benefit to me, especially on long international trips.  The shower facilities are critical.  Often I will check out of a hotel in the morning, have a full day of sweaty activity and then arrive at the airport for a 16 hour flight at night.  Being able to shower the sweat off and change clothes before a 16 hour flight is a huge benefit to me. The food, coffee, and open bar are huge benefits but even more important is the fact that I can be productive.  Outlets and work tables with plenty of space and strong wifi allow me to work.
Ability to sleep.  The modern business class seat that converts into a flat bed is a huge value to me.  I am 6'3″ tall and it is impossible for me to sleep in a coach airline seat. My shoulder towers above the "headrest" and there is nothing to lean my head against.  Slouching down to try and sleep is not possible because even when sitting up, my knees are jammed into the seat back ahead of me.  Going 36 hours without sleep on an international flight not only wastes a day but the stress of staying awake so long would usually lower my immunity so that I would catch every cold inside circulating in the cabin.  Having to sleep the entire first day of arrival and then having a bad cold to boot is no way to start a trip.
Ability to be productive.   Whether it is waiting for my flight or on the flight, it is a huge value to me if I can be productive rather than have to waste time.  If I can be planning my next trip, adding web content, or doing my taxes, that is an incredible value to me.  As I said before, I am 60 and the clock is ticking.  I dont want to be forced to watch a movie I am not that interested in just to tune out from all the annoying people around me.
Amount of space.  When you think about this as an engineer, when you buy a ticket on an airline, you are renting a certain number of cubit inches of space.  The tighter the seats are packed in, the less space you get, and the more annoying people are close enough enough to bug you.  When you look at value, you should not be looking at the ticket cost but the cost per cubic foot.  A premium coach seat might have 50% more space than a coach seat for just 10% more in price making it a good value.  A business class seat that converts to a flat bed gives you the space of four coach class seats and this needs to be taken into account when looking at value.
Airline Travel Value
Lets look at why loyalty to one airline and not buying the cheapest ticket can lead to huge value.  The airline you choose to become loyal to will depend on who flies out of your nearest airport and who has the best program.  In some airlines, even flying with them 50,000 miles a year does not get you much of a benefit where with others, even at the 25,000 mile level you get great benefits.  First, I have no affiliation with United Airlines other than as a customer.  I have been in their frequent flyer program for 20 years now and have found it worthy of my loyalty.  Let me give you a great example of the value of this loyalty.  Last year I didnt fly much so I had "silver" status with United which means that I flew at least 25,000 miles.  For my trip to Hong Kong last week, I bought a coach ticket on United for about $600 which gave me 13,000 miles – halfway to silver status in a single flight.  If I had shopped around, I could have probably got a charter flight for $400 and saved $200.    I then used 40,000 miles to upgrade my Y class seat to Polaris business class which is the flat bed berth.  Were I to buy that Polaris berth outright, it would have cost $10,000.  I saved $9600 in one single flight by being loyal to United Airlines.  Remember though that you are not guaranteed to be able to use your miles to upgrade.  If you are silver status, the gold, platinum, and 1K customers get to upgrade with miles before you do.  At some point I will share my tricks for maximizing the chance you will get this amazing upgrades.
United Airlines upgrade awards between USA and Asia
Although you may be with another airline, let me illustrate the things you need to take into account to get the best value when purchasing a ticket.  With United Airlines, as most airlines, the number of miles you get per flight depends on the class ticket you purchase.
First and business classes
Full fare earns 300% PQM (J)
High fare earns 200% PQM (C,D,Z)
Discounted earns 150% PQM (P)
Economy Class
Premium Plus earns 150% (O,A,R)
Full fare earns 150% (Y,B)
Discounted earn 100% (M,E,U,H,Q,V,W,S,T,L,K,G)
Basic economy earns 50% (N)
The fare class it is also factored into how much your upgrade will cost and the likelihood you will get it so it pays to keep this in mind when shopping for the ticket you will be upgrading.  For example, lets say that I have the choice of two economy tickets from SFO to Hong Kong.  The first is a class M ticket for $500 and the other is a Y class ticket for $1000.  If you look at the below award chart, you will see that to upgrade a M class ticket to 1st requires 60,000 miles and $700.  To upgrade a Y class ticket is only 40,000 and $0.  In this case, it really pays to buy the $1000 ticket because not only does it reduce total cost, it lowers the number of miles you need to use, and also increases the chance you will be allowed to upgrade.
This chart is hard to find online so I put it here for reference.  It is current as of January 2020.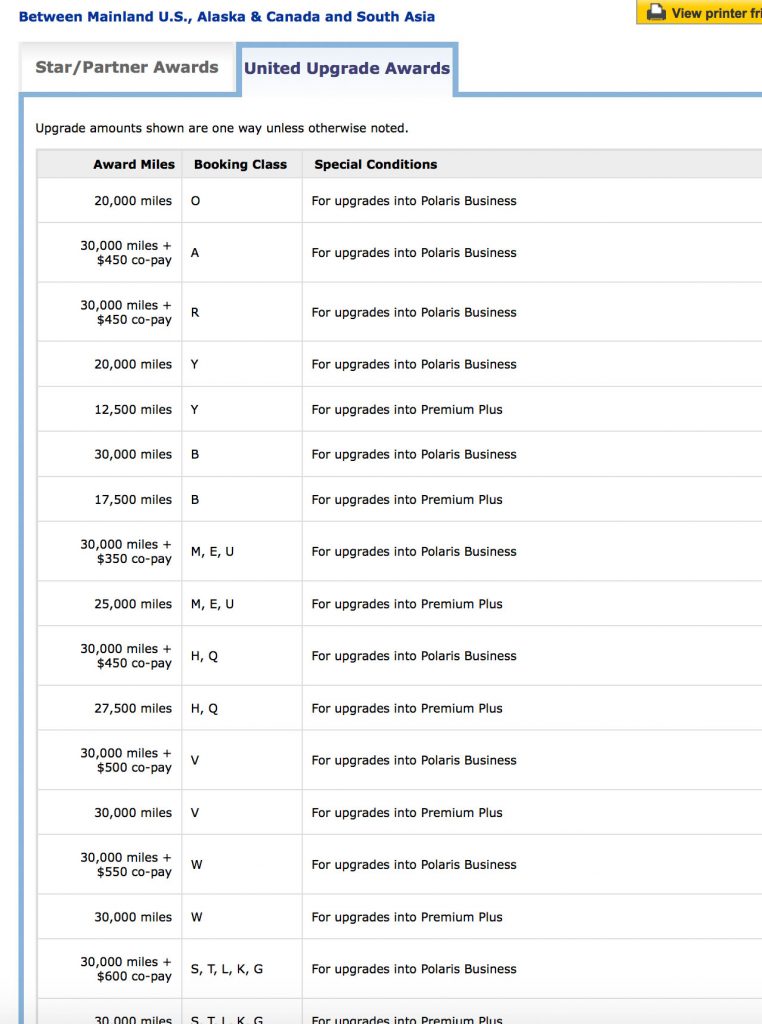 United Airlines upgrade awards between USA and Europe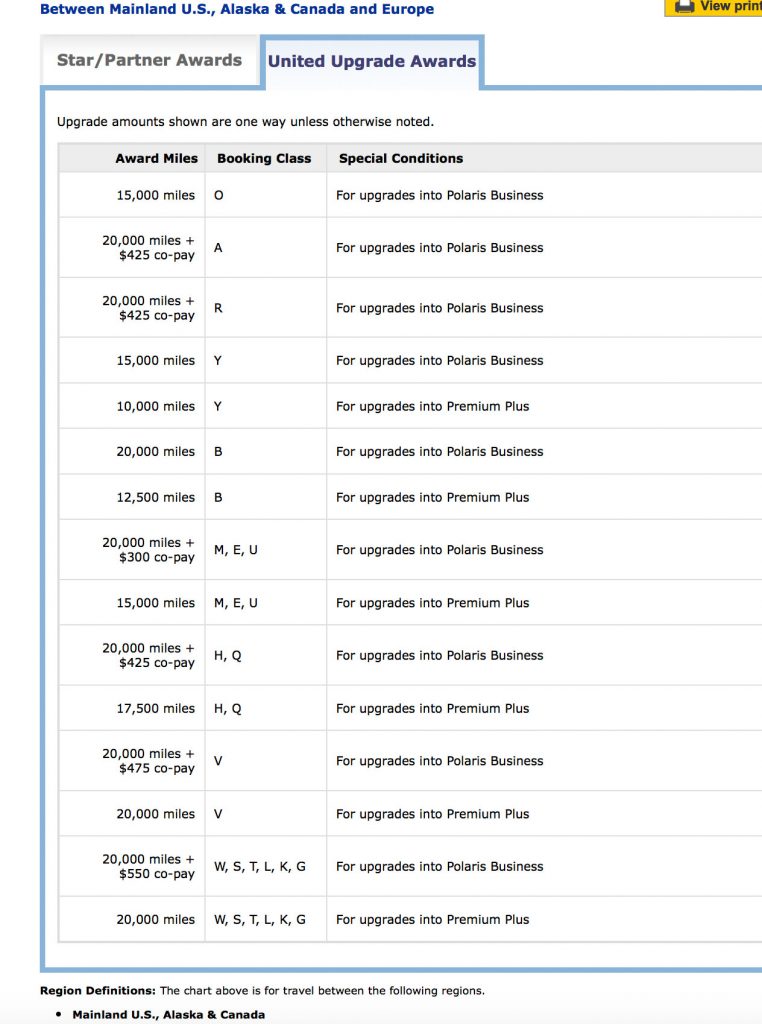 How to get frequent flyer miles
There are three issues with being able to get these kinds of airline values:
You need status with the airline
You need to purchase an optimal upgradable coach ticket
You need the miles in your account for the upgrade
An international flight can require 40,000 to 60,000 miles and that is a lot.  How do you get that kind of mileage?  Two ways.  First by paying close attention to what fare class you are buying and what the multiplier is as I list above.  For example, if you are on United and the Y class seat is not that much more than the N class seat, then get the Y class because it gives you 150% the actual milage flown instead of just 50% as the N class seat does.
The second way is thru credit card purchases and 3rd party affiliations with hotel chains which I will cover in a bit.