The Best Workout
What is the best workout?  It depends on your goals!  Heated arguments go on and on in the fitness and bodybuilding community about what is the "best" type of workout. What they fail to realize is that the reason they are disagreeing is that their goals are different!  On this page I will try to help you find a workout program that fits your needs. The right workout plan for you depends on many factors like age, genetics, injuries, your personality, and most of all, your goals. Below is a chart to help you find the right workout plan for you. You may have to try a few workouts before you find one that floats your boat, don't be afraid to experiment and see what gives you optimal results. I want you to find a workout plan that excites you, one that you will look forward to doing every day. If you cant get motivated to workout then you have chosen the wrong workout plan, try another. Don't listen to people in the locker room! If you love P90X it does not matter what other people claim is the "best". If you love your workout then you will do it consistently and results in bodybuilding take this kind of perseverance.
A "bad" workout done consistently is better than the "best" workout that you constantly skip. – Scooby Werkstatt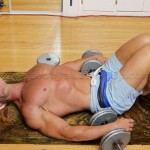 I'm not married to my own home bodybuilding style workouts and want you to find the workout program that is right for *you*. I don't care what workout you do as long as you find one that you love and will look forward to every day.  Along the left column locate the goals important to you then look for green dots in that row to find the workouts that are appropriate for that goal.
Which Workout Is Best?
DVD
workouts
P90x etc
Group
classes
Starting
Strength
5×5
Home BB
workouts
Crossfit
Plyo-
metrics
Yoga
teen
workout
 Gym BB workout
strength gain
 
 
 
 
 
 
lean muscle
gain (no fat)
 
 
 
 
 
 
 
max weight
gain (inc fat)
 
 
 
 
 
 
 
get fit and
reduce bodyfat
 
 
 
 
 
 
 
improve health
 
 
 
 
 
 
 
 
easy motivation
 
 
 
 
 
 
 
sports performance
 
 
 
 
 
 
 
impulse power,
jump, kick & punch
 
 
 
 
 
 
 
 
time efficient,
convenient & quick
 
 
 
 
 
 
 
 
lower back &
joint friendly
 
 
 
 
 
 
 
avoid injury
 
 
 
 
 
 
 
ages 10-15
appropriate
 
 
 
 
 
 
 
 
age 40+
appropriate
 
 
 
 
 
 
 
stress
reduction
 
 
 
 
 
 
 
 
improve
flexibility