Quick Healthy Meals
Here are some great healthy meals that you can make in just a few minutes. I am a horrible cook and I don't have time to shop, if I can do it you can too! If you are trying to gain muscle while losing fat then you need to be very strict with your nutrition and these meals fit the bill! These meals are truly easy, here are my standards:
very few ingredients
dirties no more than one dish
takes no more than 5 minutes of my time
My standards for "healthy" is equally as tough to meet:
high in protein, at least 20g protein in a 300 cal serving
low in fat, no more than 5g fat in a 300cal serving
high in fiber, at least 7g fiber in a 300 cal serving
no simple carbohydrates
minimal processing
Many have called my meals "boring", to them I say that you just need to train your palette to enjoy the subtle flavors of natural foods. For those of you who just can't stomach this stuff I make, please see the book review on the highly rated bodybuilding cookbook.
Fajita Scramble
Sa-Mush (Salmon Mush)
Sa-Mush is a tasty, quick and healthy alternative to fast food and you probably have the ingredients to make it already in your refrigerator and freezer!  This takes just three minutes!
Scooby Poo-Bars
These healthy meal replacement bars even have vegetables in them. They taste WAY better than they look!
Healthy Egg Hash
This is a healthy meal that doesnt taste healthy!  My egg hash is quick to make and you probably have the ingredients to make it already in your refrigerator and freezer!  This takes just two minutes, or three if you are slow :)
ScoobySnack Protein Bars
I perfected this recipe for all you students and hard working folks out there who dont have time to eat 6 healthy meals a day but want to maximize your ability to gain muscle and lose fat. These are healthy, cheap, and convienient. They dont even involve cooking! The only problem with this is that they taste so good that you might be tempted to eat too many of them. These are meal replacement bars, don't overuse them!
Lentils
You "dont have time to cook"? You "cant afford healthy food"? Poppycock!! Here is a recipe that's really healthy, easy to make, dirt cheep, and FAST! Even students can make this. It takes about a minute per serving which is much faster than standing in the line at McDonalds and much healthier. Lentils are a wonder-bean. Tons of protein, fiber and vitamins. There is a reason that many people who don't want to eat meat or cant afford to eat meat choose lentils.
Egg Whites
Egg whites are a great source of protein, this recipe shows you how to make them a tasty complete meal – in 3min!
Quinoa
Quinoa is a wonder grain, high in protein, high in fiber, and low in fat. Even I can cook it, just two ingredients: quinoa and salsa. Let it boil 15min and its done. Add a piece of fruit and its a complete meal.
Muscle Peas
If you are trying to cut down on the calories to lose fat, peas are great because all the fiber fills you up without many calories. If you are trying to gain muscle peas are great because they are so high in protein. If you want, you can put some chunked chicken or salmon into the peas for more protein.
Healthy 2 minute meal
Beans are an excellent source of protein and one of the cheapest. The fresh salsa provides a great flavor and some veggies. Add a piece of fruit for a complete meal.
Banana Protein Shake
A home made protein shake from bananas, whey and OJ or milk. OK, I know this violated my two ingredient rule but I cut it some slack because it didn't dirty any pot.
Worlds fastest, healthiest, and cheapest meal
Healthy meals for students and other busy people
13 minute BBQ meal
Meals that Require no Cooking
Don't even have time for those quick recipes? Here are some that only require no cooking at all, just heating up! Each of these meals only requires:
can opener
microwave
blender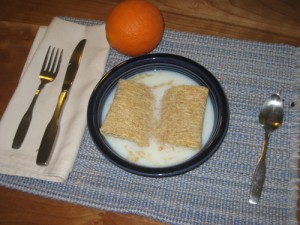 2 biscuits (47g)
1.5 (360ml)cups nonfat milk
1 Orange
365 calories
3% calories from fat
19.5g protein
7.7g fiber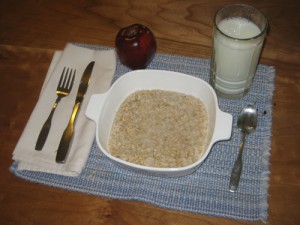 1/2 cup (40g) dry oatmeal)
1.5 (360ml)cups nonfat milk
1 plum
315 calories
6% calories from fat
19.5g protein
5.7g fiber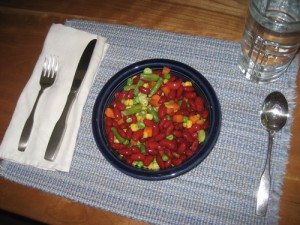 2/3 cup (95g) frozen mixed veggies
1 cup (260g) kidney beans
290 calories
0% cals from fat
17g protein
13g fiber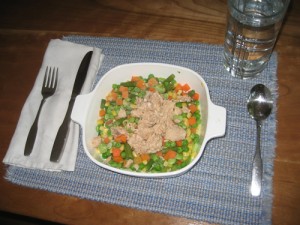 2 2/3 cups (380g) mixed vegetables
1/2 can (70g) boneless skinless salmon
310 calories
3% cals from fat
28g protein
12g fiber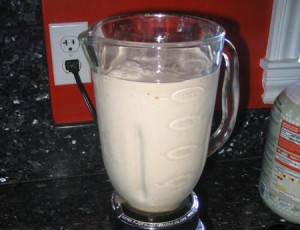 25g whey protein (type I use)
1 cup orange juice
1 frozen banana
315 calories
3% cals from fat
27g protein
2g fiber
Emergency Meals
No heating, refrigeration, or preparation required. Keep these in your backpack, car or office desk for times when you have "no time" to eat.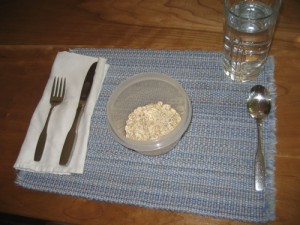 260 calories
10% cals from fat
30g protein
4g fiber