Low-carb CAN be healthy, very healthy.  To guide people who are doing low-carb diets, I have created a low-carb meal planner.  I actually starting using it yesterday and have already gotten my contest prep back on track (see chart below).  Many meal planners out there give you a rope long enough to make a nutritional noose, not mine.  The only foods you get to choose are healthy ones that will create a nutritional meal plan for the day.
For example, below is the grilled chicken and broccoli meal that I ate an hour ago which was designed for me by the meal planner, if you want to check out my whole meal plan here it is: Scooby's Low-Carb Meal Plan.  Its printed below but go ahead and click on the link because its COOL!  What is so cool about it is that you can make changes and play around with it.  It makes it very easy every night to make a few tweeks and make your meal plan for the next day.
One very important note.  The scale is in shone in one of the below meals for a reason.  You MUST weigh everything for this meal planner to work.  Please see my tips on how to measure food, its not as simple as it seems.
Another healthy and very tasty low carb meal is very simple – just grilled chicken and broccoli.  If you want a bit of flavor, use balsamic vinegar.  If you use ANY other dressing or sauce, you MUST weigh it to the gram and calculate its calories.  Here are the stats for the below meal: 500 calories, 39g protein, 14g fiber, and 17g of net carbs.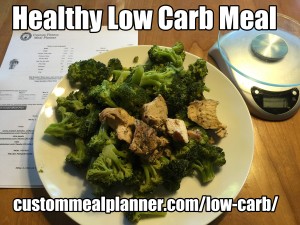 Here is another simple low carb meal you can throw together for bed-time, this one came out of my low carb meal planner – its nonfat greek yogurt with almond butter chia and flax.  Tastes great and perfect for bedtime with all that casein for slow release protein.