Scooby's First Contest!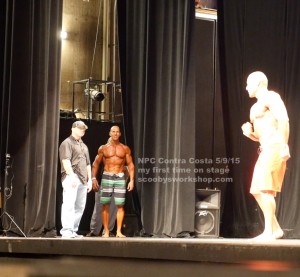 Seconds before my first time on stage! I have to say, it was a lot less traumatic than I feared! My "posing" was mechanical and the poses I did hit were not as they should be but hey, I did my best. What this was about for me is hoping that some 50 year old in the audience tonight who is out of shape and feels they are "past their prime" will see me on stage at age 54 and be inspired to become more fit. Thats what Ken at sweat4health reminded me of this morning. Thats what my fitness success stories all about and thats what this was all about for me – to help inspire others to become more fit!  To me, this physique contest is not about looking fit, its about BEING fit.  It was to show that pursuing health and fitness has good aesthetic side effects! Form follows function!  I do half ironman triathlons and double centuries, this contest was to show I can *almost* hold my own on stage.
2015 Contra Costa NPC Evening Show Results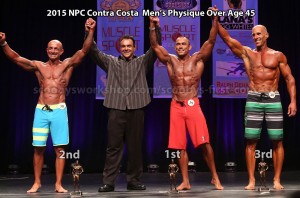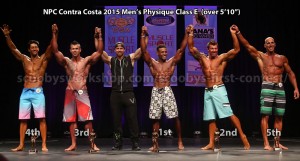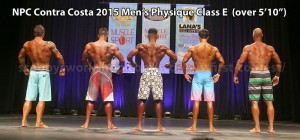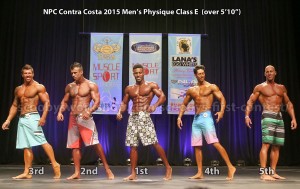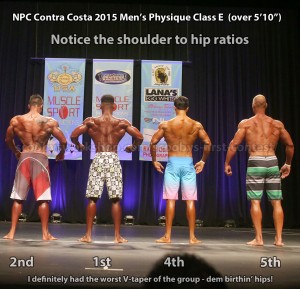 I entered in two categories.  I took 3rd in Men's Physique Over 45 and 5th in Men's Physique Open Class E (Over 5'10").  OK, for those paying attention, you will notice that taking 3rd when there are three contestants and taking 5th when there are five contestants is the same as coming in LAST in both categories :)  Thats OK, I am still thrilled!  As I told everyone, before I even set foot on stage I had won because it wasnt me competing against others, it was me competing against me.  I am an introverted engineer who absolutely hates giving presentations, or worse yet, being on a big stage with spotlights.  Just being able to go up on stage without hyperventilating was a *huge* accomplishment for me.  I wanted to prove to myself that I could get my bodyfat down below 6% and do it in a healthy fashion without losing muscle, without losing strength, and without ever being hungry – and I did it.  See my weekly weight loss progress.  Because the meal plans that my custommealplanner generated for me contained so many low net carb vegetables, I never was hungry during my cut.
If you look at the competitors, its clear why I came in 5th when you look at the V-tapers.  Those guys who beat me not only had incredible training but incredible genetics as well.  Doesn't matter how low I cut my body fat, I will never have narrow hips like those who placed above me.
It was a great experience and musclesportproductions puts on an extremely well organized, well run show which makes all the difference to us competitors.  The whole experience was very up-lifting.  My online fans at Facebook, Instagram, and Sweat4health were amazingly, incredibly supportive. The audience was incredibly supportive.  Best yet, the competitors were really supportive of each other.  Particularly gratifying for me was meeting some young competitors who were brought into fitness thru my YouTube videos.    I have an interesting take on the Men's Physique sport which I will talk about in an upcoming article – both positive and negative.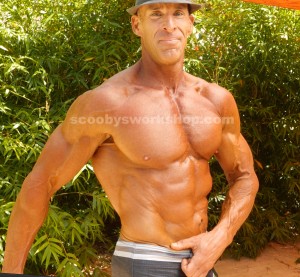 This photo was taken between the morning pre-judging and the evening show.  I have some video footage that I will upload at some point.
---
---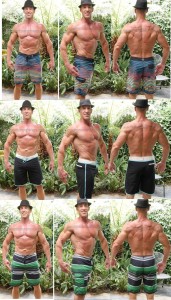 So at age 54 I am doing my first Men's physique competition this weekend on Saturday May 9th, if you are in the area please come and root me on because I need all the support I can get. One thing that many people are surprised to find is how much the thought of getting up on stage terrifies me. Funny coming from someone who has hundreds of millions of video views but thats completley different. When I do videos, its just me and you, its like Im giving advice to a friend. Getting up on stage is an entirely differnt matter and
for a introverted enginner, rather terrifying.
The thing is, I have already won. I dont mean that in the cocky sense that I think I will take 1st place, thats not gonna happen. What I mean is that I did what I set out to do. I wanted to prove to myself that I could do low carb for 12 weeks using my custom meal planner and drop my bodyfat down to 5% without ever being hungry and without losing muscle mass and I did it.
So anyway, if you live near Hayward, please consider stopping by to cheer me on because as I say, I will need it. The way these contests run, its tough to know when I will be on stage but here is the approximate schedule, I have circled the two categories I will be in. Between the pre-judging and the evening finals I will have a meet and greet for S4H members – you can sign up for a free S4H membership here.  As I mention though, the contest schedule is unpredictable so I will post to S4H late afternoon as to when/where the meetup is. If you show up to cheer me on as a token of my appreciation, I will give you 3 months free at S4H and a signed scoobysworkshop t-shirt.
This is a great time to mention that I really appreciate the amazing show of support the Facebook and Instagram community has given me over the last two weeks! If you want to follow my final contest preparation days, follow me on Facebook or Instagram. Bis Samstag wann ich Auf der Bühne gehe!
I will definitely be in the pre-judging that starts at 10am.  Depending on how I do in pre-judging, I may or may not be in the evening show so your best bet is to show up for the pre-judging!