Cruising can be a great vacation.  The thing that most people do not realize is that there are two completely different types of cruises:
The floating hotel cruise

Huge cruise line ship
Riverboat
Bike barge

The resort cruise.
The resort cruise.
This is what most people think cruising is.  You get on the ship, plop yourself at the pool and have Mai Tais delivered to your poolside lounge chair.  You see the shows, eat the fabulous foods, and do the water slides.  These ships are theme parks on water.  Even the ports are often theme parks.  In the Caribbean the chance to see unspoiled beauty ended about 100 years ago.  Now all you can see is impoverished economies catering to tourists with tacky attractions.  Often because the Caribbean islands are so impoverished, the cruise lines buy and operate their own private beaches where locals are not allowed. This area of Haiti is a great example.  There are jet skis, the worlds longest over water zipline, and all kinds or tourist attractions which let you forget that you are actually on an impoverished island that was recently decimated by hurricanes.
Often various groups will charter a cruise ship for various themes so its a great chance to combine your hobby or passion with a cruise.  You can do the Star Trek cruise, the EDM party cruise, or whatever. This cruise we are on now with Atlantis has great themed dance parties where people really get creative with the costumes.
The floating hotel cruise
This is my favorite kind of cruise. In this type of cruise, the ship serves simply as a hotel room that takes you from city to city where you can explore. My personal favorite is riverboat cruises that traverse Europe along the Rhine, Main, and Donau rivers.  The reason I love these is that because the rivers run thru the heart of these European cities, when you dock, you are perfectly positioned to explore the city without the need to go on a guided tour with hordes of  tourists.   Another great option in Europe is the "bike barge".  Get off the floating hotel in the morning and bike to the next city where your hotel room meets you!    Here is the route typically taken by the riverboats and bike barges: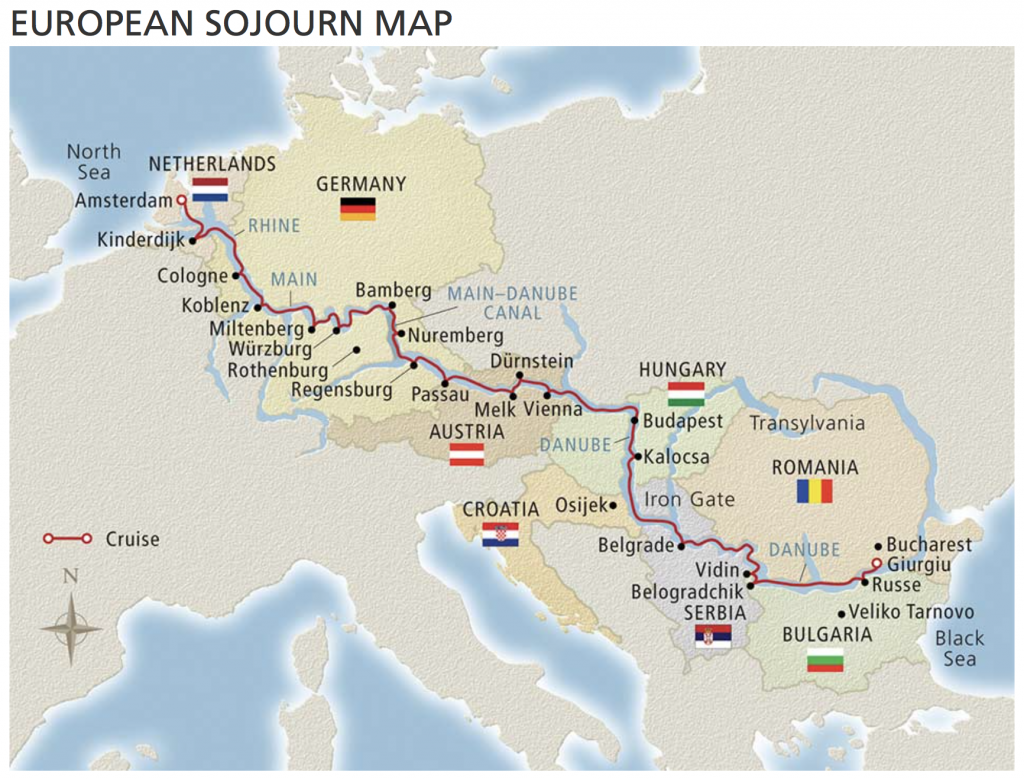 These "ship as a hotel" cruises save all the hassle of having to constantly pack and unpack and take trains from city to city – you simply wake up and you are in a new city!  You can also do this with the large ocean going ships and the best place to do this is on the Mediterranean Sea where you can visit ports like Rome, Athens, Barcelona, Genoa, Cairo, Istanbul, and Venice.  The way to think of these trips is samplers. You only spend a short time in each city to give you a sneak preview and help you decide where you would like to come back to and spend a few weeks.  The reason that I dont like these huge ships as hotels is that because they are so huge, often you dock far from the actual city.  Because the time in any given port is short you often need to take the cruise lines excursions. For example in Rome, the cruise ships dock in Civitavecchia which is a 2 hour bus ride from Rome so you often have to book an excursion with the cruise line that really limits your flexibility.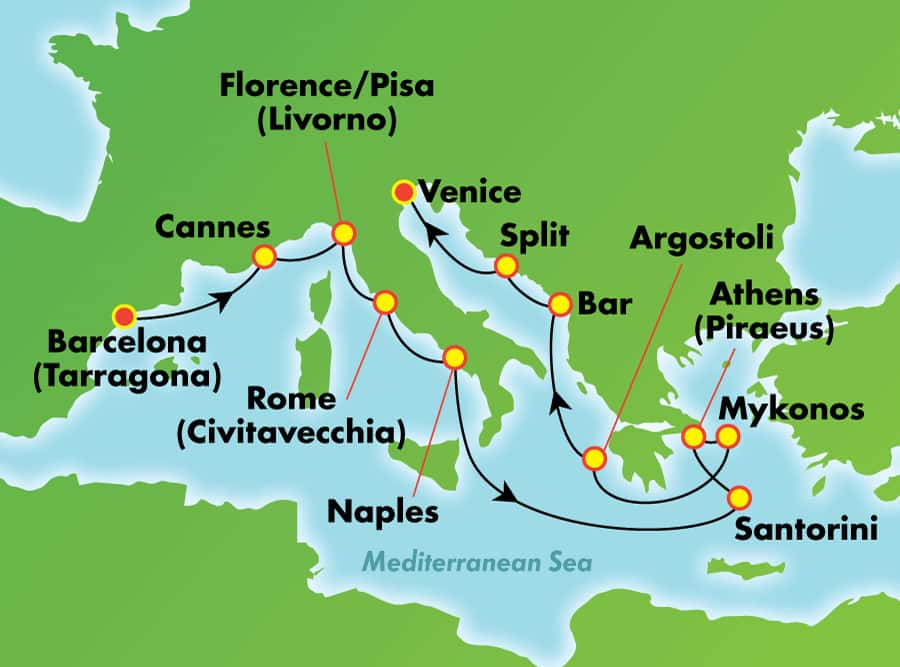 These "ship as a hotel" cruise can be very cheap, especially if you are flexible.  Use website like travelzoo.com or vacationstogo.com to find a bargain on a cruise.  Most people think of cruises as expensive but it can actually be a lot cheaper way to see Europe than a land based option.  On The NCL Jade we only paid $70/day each for the 12 day cruise – a true bargain.
Environmental concerns with cruise ships
The huge mega ships are floating resort cities and they use huge amounts of fuel oil.  Because these ships are so huge, go so fast, and go so far, the amount of fuel used per passenger can be very high.  High enough that those worried about CO2 emissions and global warming might want to consider other types of cruises.  In contrast to these huge mega-ships, the riverboats that can take you across Europe on the Rhine, Main, and Donau use less than 1/100th the fuel per passenger because they are slow, light, and only cover a fraction of the distance of mega-ship voyages.  Not only that, I personally prefer the riverboats for the following reasons:
No motion sickness, ever.
Awesome for exploring because they drop you off in the city center where you can explore on your own.
There is always an awesome show right outside your balcony as you pass thru Europe.
Easy to combine with biking.
Environmentally friendly.