As always, there were so many incredible fitness, health, and fat-loss success stories that narrowing it down to the "best" one was just not possible so I have chosen three.  Congratulations to EVERYONE who submitted their stories because you ALL had amazing success, and because you worked for it the old fashioned way with sweat and hard work, your gains will stay with you! If you have a fitness success story, I urge you to share it because your example can serve to motivate countless others! The 'prize' is just a signed scoobysworkshop t-shirt but the real reward is your new healthier, leaner, and stronger physique! You can submit your success story any time and it takes just 5 minutes.
First we have Jcgadfly From Indiana who literally cut his weight in half! Way to go Jcgadfly!!!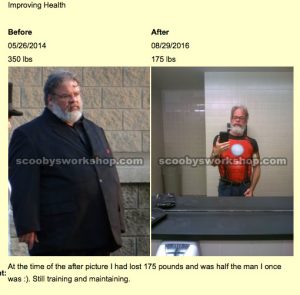 Next we have Taznold from the country of Georgia who clearly had some spectacular fat loss – congratulations Taznold!!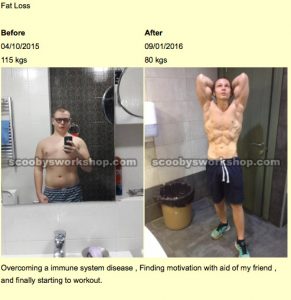 And last but certainly not least, we have Oscar from Stockholm who showed us what simply cutting out sugary beverages can do!!!! Unfortunately, I did not get a chance to meet Oscar when I visited Stockholm last month. Anyway, congratulations Oscar!