.. at 10am Botanic Gardens Cafe in the Royal Botanical Gardens.
I want to first thank everyone who came to yesterdays meet and greet at the top of the pylon of the Sydney Harbor Bridge. Not only was it in the middle of a work day but it also cost a lot of money to get in. I know I have said this before, but its events like this that give me the motivation to keep doing videos when I realize that I am still having a positive influence in peoples lives. I love doing videos but I sometimes start thinking that its time to move on to some of my other life's passions but hearing stories like I heard yesterday really remind me of how important it is for me to keep on doing videos, developing my fitness tools, and keeping the sweat4health community as an island of sanity and support in the ugly internet jungle. If you were one of the 25 or so people who took off work yesterday to come and share your stories with me, thank you from the bottom of my heart!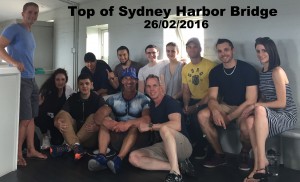 I am a little apprehensive that today's get together might be too large for me to get to spend quality time talking to everyone but I will try my best. We actually have tickets to tour the Opera house at 1pm but that will leave at least two full hours to talk to everyone.