Some have asked why I am making a big deal about the "gay" thing and why I dont just stick to fitness. I suggest you take this issue up with those who have tried to make a big deal of my sexuality as my preference was to keep my private life completely private.  I always wanted to keep my videos, Facebook, and scoobysworkshop website 100% about how I could help YOU get the physique you wanted rather than have any spotlight on me.  The reason for this photo collage is that if pictures of my husband and I are going to circulate then they might as well be good, represantative ones rather than a lame snapshot from a street fair.
Others have commented that I lied to them by talking about "my wife".  I can 100.00% guarantee you that I never, ever said I had a wife in any video nor wrote it in print anywhere.  What happens is that people hear what they expect to hear and read what they expect to read.  Everyone knew I was married, which I am, and I always referred to my husband as "my spouse" or "my partner".  Its a societal bias that people have, assuming that if a guy is married then its to a wife so their ears hear "spouse" and their brain stores "wife".   And another thing, we call each other "Husband", as in two husbands, there is no "wife" – we are equal partners and best friends.
It should be clear from the photos that Scott shares my passion for fitness, weight lifting, sports, and health!
Follow my husband on Instagram!.  Here are the first photos of my husband that I published:
I really like the leg photo showing our wedding rings!  By the way, the leg with all the wrinkles on the knee is mine :)  The leg with the 40″ vertical is his.  Here is the photo collage: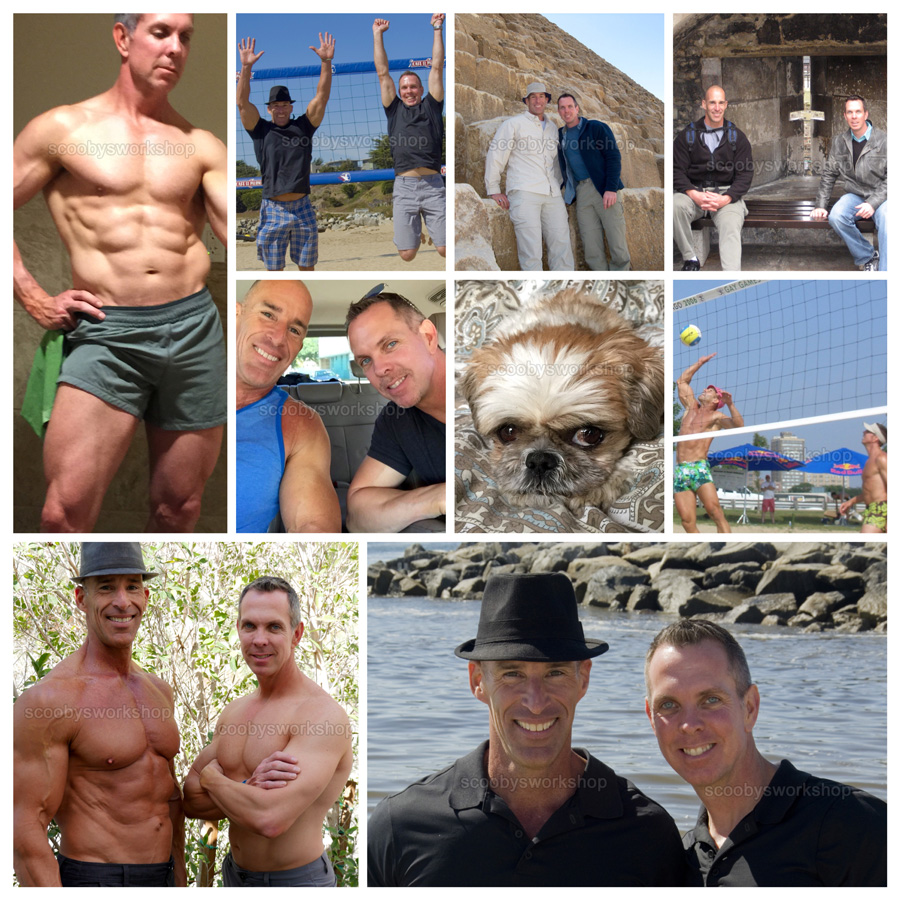 We do love playing beach doubles volleyball together.  My husband is much better at spiking with his incredible vertical and snap so I typically dont waste my energy hitting but focus on ball placement.