I will be at booth #611 at the San Jose FitExpo which is June 13 and June 14 of 2015! Please stop by and say "Hi!". I am also going to be filming interviews of people like YOU about your fitness success so if you have an interesting story to tell, stop on by!  I will also being some fun live broadcasts so stop on by for those too or just stop by to say "hi!"
Want $10 discount on the San Jose 2015 FitExpo?  Print the below coupon and bring it with you!:

For people who sign up for a free 30 day trial membership at  sweat4health, or for people who are already members of sweat4health, I will be giving away these t-shirts!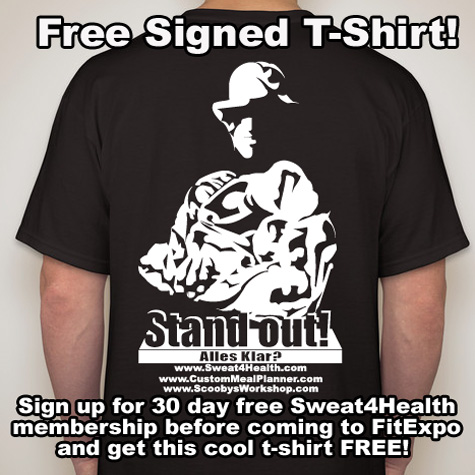 I was at the San Jose FitExpo last year as a spectator, its an awesome event.   Not only lots of really interesting exhibitors but a lot of competitions and really good lectures as well, its a fitness-overload weekend!