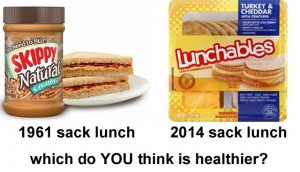 What on earth is going on? It used to be that peanut butter fed a nation. Back in the 60's when I was a kid, lunchables hadn't been invented yet and everyone had a peanut butter and jelly sandwich at least once a week – many had them every day. For the first 30 years of my life I never ever remember reading about a single peanut allergy. From the way many talk now, you would think peanuts are a natural version of anthrax. My brother was recently on a flight where the flight attendant came on the PA system and asked that if anyone had brought any peanut products onboard not to open them because one of the passengers was allergic to the *smell* of peanuts. This is absolutely crazy! What is going on here? I have three guesses:
The peanuts we are eating today are different than those I ate as a kid in the 1960's. Either they are genetically modified or the farming techniques used to grow, process, or store them has changed making them more toxic.
The peanuts are the same but humans are more sensitive.  Because of stress, bad nutrition, anti-bacterial soaps, pesticide overload, or any of the problems of modern life, many people have become hyper-allergenic.
People have become hypochondriacs and the placebo effect of stopping peanut consumption 'heals' them.
Its probably a combination of all three but if I was a betting man and had to choose one, I would go for #3.  I know there are people with real allergies and I don't mean to minimize their condition or the danger presented to them by peanuts.  There are people who are so allergic to peanuts that they could die if they eat them … but I would guess that fewer than 1 in 100 people of people who claim to be allergic to peanuts fall in this category.
Parents these days are giving their kids lunchables rather than peanut butter and jelly sandwiches.  To the millions of parents who do this every day, I would suggest that you look at the list of ingredients and decide for yourself which you think is healthier, peanuts or lunchables. Below is the ingredient list for Turkey & Cheddar Lunchables, how many of these ingredients would your grandmother recognize???
Ingredients: ROAST WHITE TURKEY – CURED, SMOKE FLAVOR ADDED: WHITE TURKEY, WATER, POTASSIUM LACTATE, MODIFIED CORN STARCH, CONTAINS LESS THAN 2% OF SALT, DEXTROSE, CARRAGEENAN, SODIUM PHOSPHATES, SODIUM DIACETATE, SODIUM ASCORBATE, SMOKE FLAVOR, SODIUM NITRITE, NATURAL AND ARTIFICIAL FLAVOR. PASTEURIZED PREPARED CHEDDAR CHEESE PRODUCE: MILK, WHEY, MILK PROTEIN CONCENTRATE, MILKFAT, SODIUM CITRATE, SALT, LACTIC ACID, SORBIC ACID AS A PRESERVATIVE, OLEORESIN PAPRIKA (COLOR), ANNATTO (COLOR), CHEESE CULTURE, ENZYMES, WHEY PROTEIN CONCENTRATE, WITH STARCH ADDED FOR SLICE SEPARATION. CONTAINS: MILK, WHEAT CRACKERS: ENRICHED FLOUR (WHEAT FLOUR, NIACIN, REDUCED IRON, THIAMINE MONONITRATE [VITAMIN B1], RIBOFLAVIN [VITAMIN B2],FOLIC ACID), SOYBEAN OIL, WHOLE WHEAT FLOUR, SUGAR, PARTIALLY HYDROGENATED COTTONSEED OIL, SALT, HIGH FRUCTOSE CORN SYRUP, LEAVENING (BAKING SODA, CALCIUM PHOSPHATE), WHEY (FROM MILK), SOY LECITHIN (EMULSIFIER). CONTAINS: WHEAT, MILK, SOY.