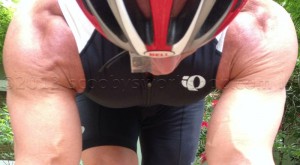 These glasses are to reduce neck strain by keeping head and spine in alignment. A side effect is that the wind resistance is reduced dramatically. On long rides, I am often limited by neck strain and that is what made me think these glasses up. They are made from a pair of safety glasses, a prism from a pair of bed TV glasses and a retainer to hold them on fashioned from bailing wire and a rubber band.
Since their primary function is not to lower wind resistance, they *might* be allowed while riding under USAT, UCI and USA Cycling rules. Race directors have the final say when it comes to acceptability of technical innovations.
Very key is the use of a prism rather than a mirror in these glasses. With the prism the image reflected twice so it is correct left to right whereas with a mirror its reversed (just one reflection). When looking down into the prism, steering is natural. If you were trying to steer by looking down into a mirror you would crash into anything and everything by steering the wrong way. Assuming you could get your hands on a pair of "Google Glass", you could kind of do the same thing with electronics but nothing beats the resolution … of your naked eye. Not only that this has no battery to die and no electronics to fail. OK, I'm just bitter I cant get a pair of Google Glass :)
These heads down glasses are dangerous, do not make them! The safe riding position is with your nose pointed forward, your eyes open, your music off, both hands on the handlebars, and your iPhone in your pocket.
No idea if I am the first person to make these, I certainly have never seen a pair but I am willing to bet that its already patented.
The first person who guessed this right on Facebook yesterday gets a signed scoobysworkshop t-shirt!