Live Cardio Class- join me from home or gym on Feb 3rd!
Whether you are at home or at the gym, join me for this killer one hour cardio session.  Take your smart phone with you to the gym and do this killer cardio workout with me!  It will be a combination of interval training and some steady state stuff.  This workout is for serious athletes and is not appropriate for beginners.  Because we will be doing a lot of work at 100% of our max heart rate, please discuss this with your doctor beforehand.
Location: At any gym or in your home
When: Sunday Feb 3 at noon Pacific, 3pm Eastern – see when it starts in your time zone
What you must have: Good cardio equipment: stationary bike, elliptical machine, treadmill, spinning bike, or bike trainer which I have that lets me use my outdoor bike indoors.
Optional but helpful: towel, cooling fan, heart rate monitor, bike computer
Preparation: Start hydrating 1-2 hours before the class, dont come in dry. Calculate your one minute maximum power, not required but helpful.
For Americans I chose the time of this class carefully.  The class date is Superbowl Sunday and many Americans will be having lots of cheat foods.  Exercise first and you might just not need as many cheat foods to satisfy you!
Q&A: During the cool off period I will open up the live video-skype lines to participants having questions about the workout.  This is *not* a time for everyone else to call in with their general questions, its strictly for participants.  Any video skype session where the caller is not dripping sweat on a piece of cardio equipment will be immediately dropped – for class participants only!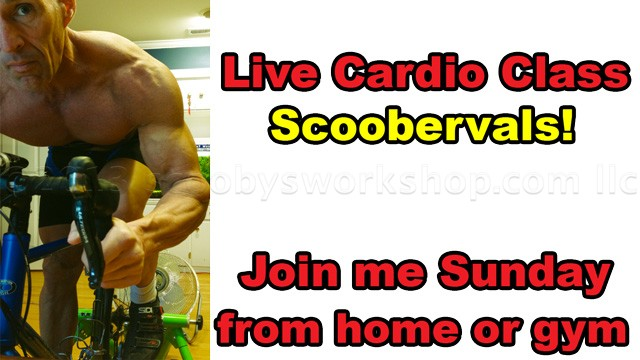 The Scoobervals High Intensity Interval Training Cardio Workout
This cardio workout can be done on virtually any piece of cardio equipment or even can be done with a jumprope or just with burpees.  To start, please read how to calculate your one minute max power as this is required for doing the workout. Again, remember to check with your doctor before doing this workout.  This is for increasing sports performance in people who are already fit and healthy.  If you are out of shape or new to fitness, please find a form of cardio best for you.
7 min warmup
Speed test (3min)
1 min max speed (note speed at end)
2 min rest
calculate 80% of your max
Repeat 3x (21min)
5 min at 80% max, hold speed 80%
2 min rest
Repeat 5x (15min)
2 min max
1 min rest
2 min additional rest
Repeat 6x (12 min)
1 min max
1 min rest