Workout with Scooby Next Weekend – LIVE!
Due to the popularity of this weekends live workouts I have decided to do it next weekend too but the format will be expanded:
10 minutes warm up sets
50 minutes hard-core lifting
15 minutes Q&A after the workout
 Sunday the 12th of February – Arm workout (biceps and triceps)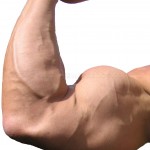 For this biceps and triceps workout you will need a used set of dumbbells and an EZ-Curl bar or straight bar.  If you dont have the bars, we can work around that.  As with my other live workouts, this will be appropriate for all ability levels.  This live workout will be 10:00am Pacific, 1:00pm Eastern, or you can click here to find out when this live arm workout takes place around the world.
Options for Watching on Feb 12th
First a note, if when you are trying to view the video and get an error message, wait a few seconds then refresh your browser.  There are two options for watching this live broadcast, listed in priority order:
Watch from the below embedded video in this page, this is the preferred option as I have total control over this.
Watch on the YouTube Live page, at the start time it will be listed in the "Live Now" section.
Past Live Workouts
Here are the two live workouts I have already done if you want to check them out,  At some point I will edit them to get rid of the annoying countdown clock at the beginning :)
Here is the live shoulder workout from the 11th of February
Here was my live chest workout which aired on the 4th of February
Here was my live lats workout which aired on the 5th of February