Weight Loss Meal Planner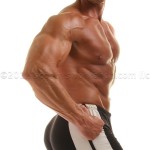 Answer seven quick questions and this custom meal planner will plan a whole days meals for you with the perfect portions for you specific metabolic needs so that you lose weight at the maximum possible rate without losing muscle. There are a lot of meal planners out there but mine are specifically for athletes. What's the difference? Athletes have higher protein needs and also have more dietary discipline than the general population.
When it comes to losing weight, the problem that many people have is that they are too gung-ho. They cut their calories too drastically, not realizing that more suffering does not lead to better results. In fact, too drastic of caloric cuts leads to muscle loss and often to binging – neither is a happy result. When you consume *these* meals, I guarantee you that you will not be hungry. You wont be stuffed, but you wont be hungry either. This custom meal planner gives you the optimal sized meals for weight loss – for *your* metabolism and *your* activity level. What is "optimal" fat loss? My definition is to lose the fat as quickly as possible without losing any muscle. No muss, no fuss, just plug in your data and get your days meals planned.
Lets look at the difference between this weight loss meal planner and my cutting meal planner so you can choose the meal plan that best suits your needs:
If you are a serious bodybuilder or athlete with less than 10 pounds of fat to remove then I would suggest the cutting meal planner. If you have more than 10 pounds fat to remove I would suggest this weight loss meal planner because its better for long duration use. If you don't like the foods in these plans, use the free custom meal planner where you give your taste preferences and then a perfect days worth of planned meals is designed based upon your goals and your personal metabolic rate.
---
Nutritional Labels of Foods In This Plan