Home Workout Plans
There are many reasons to workout at home. You can't beat the convenience, price and comfortable surroundings of home bodybuilding workouts but can you get huge with home workouts?  You betcha! Gym workouts have no advantage over home workouts when it comes to gaining lean muscle mass as long as you have a good, used, free weight set which you can get used for the price of one month's gym membership.
I am not married to my own workouts, for many people, other types of workouts are more appropriate. Think that 5×5, Crossfit, P90x or SS might be better for you? Find the best workout for you based upon your personal goals.
Not only are home workouts just as good as gym workouts when it comes to gaining lean muscle mass but most people do not realize the incredible time efficiency of working out at home. A sixty minute home workout takes … well, 60 minutes. On the other hand a "60 minute" gym workout takes far longer. People often forget the fifteen minutes driving each way to the gym adds 30 minutes. Navigating the cramped locker room to undress and dress adds another 10 minutes. Waiting for the equipment you need to open up adds another 10 minutes. Chatting with the staff after your workout adds 10 minutes. By the time you are back home, your "60 minute" gym workout has taken you two hours. In this day and age, most people are frantically busy and many claim they "dont have time" to workout – home workouts are a great solution to staying strong, muscular, and ripped on a tight schedule.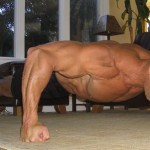 So now that you have decided to do my home workouts, which one of them is best for you? The table below helps give you an idea which of my workouts is appropriate for your ability level. Jumping to a workout that is too advanced for you will result in slower gains, not faster. Similarly, not moving up to the next plan when you are strong enough to do so will result in a plateau. You can't just do a beginning workout more often or longer to turn it into an 'advanced' workout. Note the word 'and' is bolded for a reason in the below chart. If you can do a kazillion pushups but only one pullup then stick to my beginning workout. Try to be objective and honest with yourself in the strength assessment below and place yourself into the proper workout plan.
Required Ability
Lifting Experience
Best Workout
none
none
beginning workout
can do 3 pullups and 10 pushups
1 month min
intermediate workout
can do 10 pullups and 20 pushups
6 months min
advanced workout
If you don't satisfy all the requirements for a workout, use the workout above it.
The only equipment you need to do these workouts is a pullup bar and a used weight set from a garage sale. Please don't waste money on new equipment, you can get it used for pennies on the dollar from craigslist. For a used weight set, expect to pay 10 cents to 50 cents per pound. Remember, your muscles don't care if your weights are new, shiny, and chrome or rusty, used, and cast iron – don't waste money on new stuff, buy used and save money! You can make your own pullup bar with $5 of metal toprail from a hardware store or buy a no-mar, door mount pullup bar
.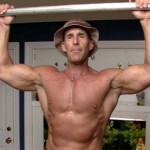 Please remember, lifting weights without maintaining proper nutrition will drastically limit your results. If you don't understand my nutrition section then consider the book Bodybuilding Revealed which has the best coverage of bodybuilding nutrition I have seen (Read my review).