I always tell people to get their weight plates used because the used ones are just as good as new ones and are a fraction of the cost.  In fact, if you are patient you can often find weight sets for free from people who just want them out of their attic/garage/basement.  The new price weight plates in USA is about $1/pound, if its more than that they are gouging you.  On craigslist, the going rate is about 25 cents per pound but often free as I mentioned.
For some people though, used is not an option.  It is very wise to take the TOTAL price of the weights into account.  If you have to borrow a friends truck and drive 100 miles each way, you have to take those costs into account as well.  Figure a rate of 50 cents per mile and you have a pretty accurate idea of the real cost of driving which includes, gas, maintenance, and wear and tear on the vehicle.  That doesnt include the value of your time either!  What this means is that the weights really have to be within 25 miles of you for it to make sense to drive there and buy them.  Not a problem in urban areas but in the country, one needs to weigh carefully if its worth the cost of going to get them.
Here is an option for those in America who cant find cheap used weight sets close to them, Amazon.  A longtime member at Sweat4health just pointed out this amazing bargain – CAP Barbell Weight Plates for under $1/lb delivered free to your doorstep.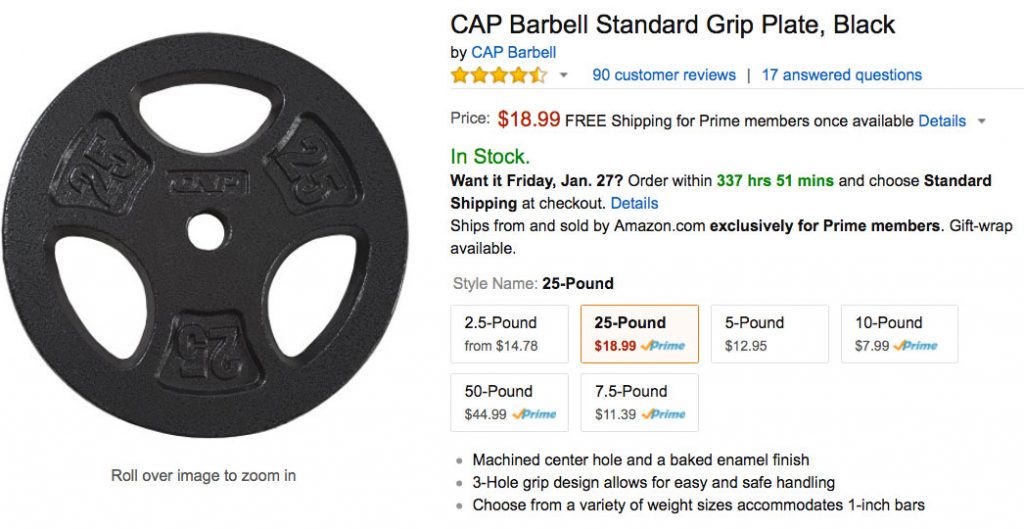 I live in an area where I can easily buy used weight plates and most of mine are used.  The one thing that seemed impossible for me to find used was kettlebells and those I bought on amazon.  The problem with kettlebells is that they are a specialty item so they almost never show up on craigslist.  It also means that because of their lower production volume, they cost a lot more per pound.  At retail stores a good kettlebell price seems to be about $1.50/lb.  Again, amazon has them a lot cheaper with free delivery to your door.  I bought a full set from 10lbs to 80lbs and love them.  Here are CAP kettlebells for1 dollar per pound
. Note though that the ones heavier than 45lbs become a lot more expensive per pound because of their cost of shipping them to you. Stick below 45lbs and they are a bargain!