"Low carb" has gotten a really bad reputation.  Not because there is anything wrong with the low-carb nutritional philosophy but rather because of the horrible way that most people tend to implement it.    If you look at all the websites with foods recommended for low-carb and keto you will see the most appalling foods – bacon, salami, lard … and people think THAT is healthy?  People seem to confuse a healthy nutritional plan from a nutritional plan that lets you lose weight.  Yes, you CAN lose weight be eating bacon and butter but its NOT healthy.  There is no reason at all that a low carb meal cant be both healthy and help you lose weight at the same time.
Anyway, low-carb CAN be healthy, very healthy.  To guide people who are doing low-carb diets, I have created a low-carb meal planner.  I actually starting using it yesterday and have already gotten my contest prep back on track (see chart below).  Many meal planners out there give you a rope long enough to make a nutritional noose, not mine.  The only foods you get to choose are healthy ones that will create a nutritional meal plan for the day.
For example, this is the meal that I ate an hour ago which was designed for me by the meal planner, if you want to check out my whole meal plan here it is: Scooby's Low-Carb Meal Plan.  Its printed below but go ahead and click on the link because its COOL!  What is so cool about it is that you can make changes and play around with it.  It makes it very easy every night to make a few tweeks and make your meal plan for the next day.
Anyway, back to the title of this post – a healthy low carb meal.  THIS is healthy!  Here are the stats for the meal 500 calories, 39g protein, 14g fiber, and 17g of net carbs.  Not low enough for keto but an excellent meal for low carb!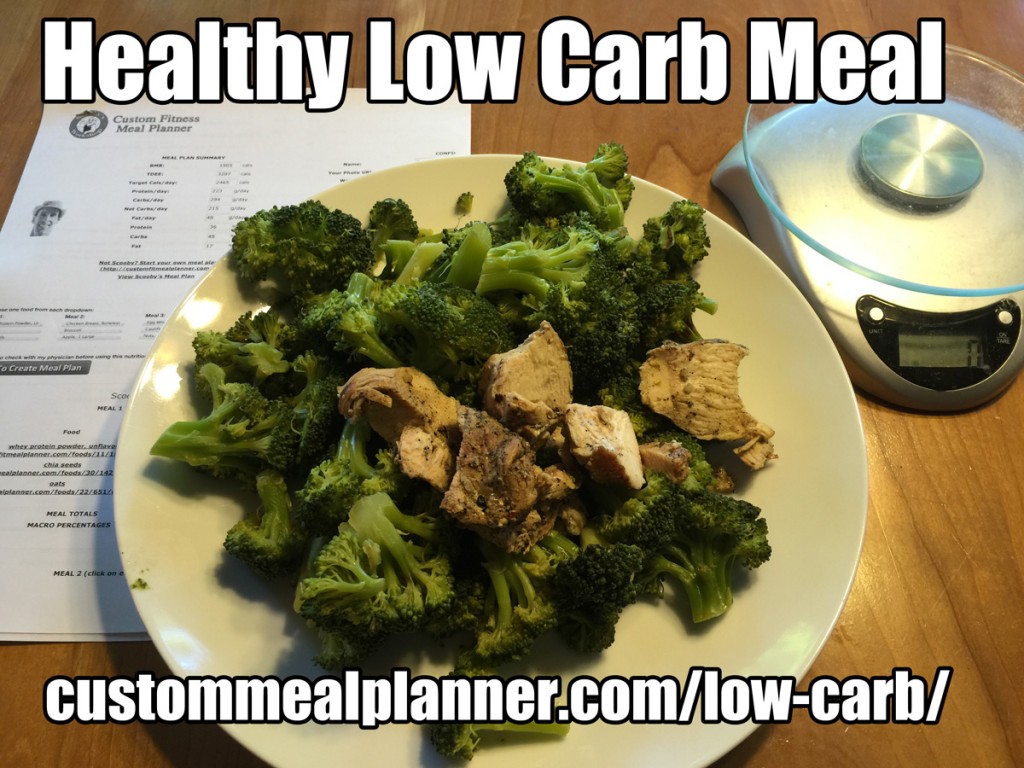 One very important note.  The scale is in the picture for a reason.  You MUST weigh everything for this meal planner to work.  There is NO way that anyone, not even me, can estimate 10g of flaxseed, 21g of chia, and 20g of almond butter with any degree of accuracy as is required for my delicious meal #3: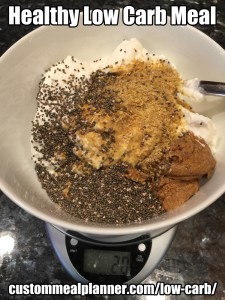 Scooby's Cutting Contest Prep Meals For Today, Friday the 3rd of April
DAY NUTRITIONAL SUMMARY
CALORIES:
2465 cals
PROTEIN:
222 grams
CARBS:
146 grams
FIBER:
63 grams
NET CARBS:
83 grams
FAT:
125 grams
SAT FAT:
18 grams
OMEGA 3:
6 grams
MACROS
PROTEIN:
36%
CARBS:
23%
FAT:
45%
Scooby's meal plan