Will Brink, one of my top five most respected fitness experts and author of Bodybuilding Revealed, has a FREE book available on Amazon.com! I dont know if this is a mistake, a sales promotion, or what but its FREE today. This Amazon.com Kindle book is worth who knows how much but its free now, their mistake, your gain! The book is called Fifty Shades of Whey
and as you guessed, its all about whey protein! So many people ask what kind of protein powder is best. This is a very short book but its packed with information and will answer every question you have ever had about whey protein. This book is good enough that even when the promotion ends, I will do a review of it and put it on my recommended books list.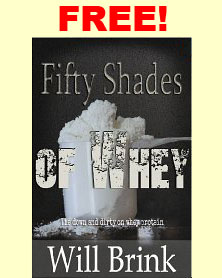 Whats the difference between whey concentrate, whey isolates, micro filtered whey, and ion exchange whey?? What the heck is bioactive whey fraction protein and hydrolyzed protein? Does whey help you lose bodyfat? Are their growth hormones in whey? Are there antibiotics in whey? Can whey help prevent cancer? What about glutathione and lactoferrin?
By the way, if you don't have a Kindle, you can download the reader software to your PC or Mac to read Kindle books!
The one thing I would caution you on is that in his sections where he is talking about the unsafe things in whey, he never mention heavy metals and pesticides. Consumer Reports magazine has repeatedly found these dangerous substances in whey powder so although in this book, Will Brink makes the case that organic products are no better than normal products in regard to hormone content, organic protein powders ARE better in terms of heavy metals and pesticides.