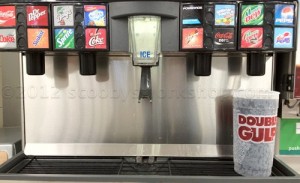 I must applaud mayor Michael Bloomberg on bringing attention to this important issue! Although Im not in favor of his proposed ban, it will undoubtedly start all kinds of constructive discussions on this important issue. I think we can reduce the nations consumption of sugary beverages without this sort of ban by making sure they have healthy choices and the necessary information to find them. As I mention in my website, the #1 easiest way to lose weight is to eat your calories rather than drink them! Reducing peoples consumption of these nutritional hand grenades is a great way to attack our national obesity problem. Why don't I think his proposal will work? Simple. My guess is that at least 75% of soda in the United States is sold in fast food restaurants and convenience stores like Seven Eleven where the soda is self-serve. In those places, you are given a large cup that you fill yourself. Once you get your Mega-Gulp cup, there is nothing at all preventing you from filling it with sugar coke instead of diet coke. Here is my counter proposal which I think would be far more effective and it contains four simple points:
 Free water. Fast food restaurants will give free water to patrons but only hesitantly. Most often the free water is given in cups so small that its not worth the bother – fast food restaurants often give tinsy 6oz cups for water while handing out 64 ounce cups for sodas. I would enact a law that says that all establishments offering soda for sale must also give away free water of the same size as the largest soda. They would be able to charge up to 25 cents for the cup and ice, no more.
Sorry,this is gonna hurt – NO FREE REFILLS. America is the only country on the planet with the endless tap, its time to cap it. Put the soda machines back behind the counter where they where they belong.
New stricter labeling laws for sodas. Any cup larger than 16 ounces used to serve a soda would need the new enhanced nutritional label printed on its side and its size would need to be at least 2″ wide by 3″ tall. In addition to the standard nutritional label, it would contain my "one a day" section. It would be the following sentence, "If you drink one of these per day you will gain XX pounds fat in a year". This is extremely important because when it comes to soda, many people drink 5-10x more than the "serving size"! Its fine to say a 2 liter bottle has 8 servings but probably most people will polish it off all at once. Its completely ridiculous that a can of soda is TWO servings, its ONE serving! This label would make it obvious to people why soda is hazardous to your wasteline! Just for example:
a 24oz coke would have to mention that 1 a day adds 31 pounds fat a year
a 64oz double big gulp of coke would have to mention that 1 a day adds 83 pounds of fat a year
Happy meals and children's packaged meals could only contain water or nonfat milk as the beverage.
Again, I applaud Mayor Michael Bloomberg for bringing this important issue to the forefront but I respectfully disagree with his proposal. I think that by giving people healthier choices and the necessary information, they can make good decisions on their own.
Below is the proposed nutritional label to be placed on all beverage cups for soda of larger than 16 ounce capacity.  Each capacity cup would have appropriate calorie and yearly fat gain properly indicated.  With clear labeling like this people would understand the obesity implications of their daily soda consumption and be able to make better nutritional decisions.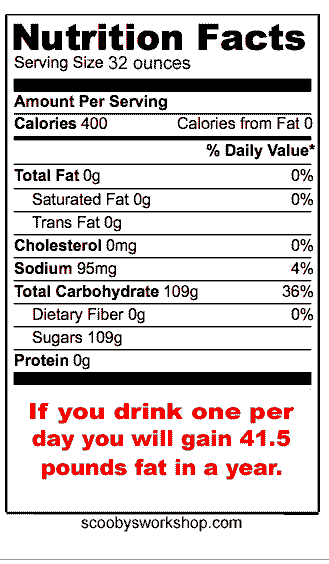 ================================================================================================
Edit: June 3, 2012
Now a lot of you with sharp eyes have commented that the statement "If you drink one per day you will gain 41.5 pounds fat in a year" in the above label is a gross simplification.  That statement is of course technically incorrect because it depends on what else you eat! If all you had was that one soda a day, you would die of starvation and malnutrition, not get fat! To be technically correct I should have said:
"Consuming an additional 400 calories of sugar per day over your TDEE (Total Daily Energy Expenditure) will result in gaining 41.5 pounds of fat per year."
That statement is technically correct but it is long winded and it leaves many people scratching their head.  You have to ask yourself, who is the intended audience of these nutritional labels? Its certainly not nutritionists, doctors, or bodybuilders because they understand in no uncertain terms the nutritional and health implications of consuming 800 calories a day of sugar water.  These folks understand the above scientifically correct warning but they don't need it because they already understand. No, the audience of my proposed new soda nutritional label is not the nutritional elite, its those who our educational system has failed.  Those people who have never heard of TDEE and don't know how to read a nutritional label.  The same people who report that they "hardly eat anything" but yet continue to gain fat without realizing that its all the beer and coke they are drinking that is causing their obesity problem.     For this target audience who needs help, some simplification is required to get them the information they need to start losing weight.  We can't provide a semester's nutrition class in the one square inch available on the bottom of the nutritional label.  We need a simple can clear message about the nutritional ramifications of a one-a-day habit of drinking soft drinks.  Thats why I proposed the new simple label below because it could make the light bulb go off in millions of people:
"Oh, THATS why I gained 50lbs last year, its all the sugar in the double big gulp I drink every day."