I am really excited because tomorrow I am heading off for two weeks of backpacking and biking in the Andes mountains of South America returning on the 21st of May.  As you know I do a lot of endurance sports, cycling and triathlons.  My next big race of the year is in June and its a half Ironman and this high altitude backpacking and biking trip is the perfect cross-training conditioning for that event!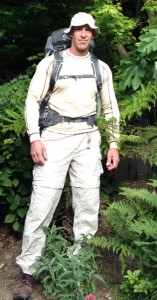 Here I am in the backyard after packing making sure the pack isnt too heavy.  This one backpack is my entire luggage for the 2 week trip – sleeping bag and pad, hiking poles, high protein food, gear, clothes and all.  Even had room for my portable pullup bar :)  I've been doing this long enough that I'm a very good packer and dont bring anything other than the essentials.  This usually means just two pair of everything, one to wear while the other dries from being washed.  Two weeks with two pairs of socks, two pairs of under, and two pairs of pants – gotta make room for all my protein powder in that skimpy 60 liter pack :)
Although I wont have internet access on this trip, I have pre-recorded a video that will upload on the 9th of May so I wont totally be abandoning you folks.   If I venture thru towns with internet cafes, I will upload some pics to my facebook page: Get Fit For Free.  You experienced people are always awesome answering newbies questions on AskScooby and facebook while I'm away and I really appreciate it!!!
My flight leaves in 12 hours.  I'm heading over now to say goodbye to Helen, our best friend and 95 year old neighbor.  Her positive attitude and outlook on life has been a true inspiration to me.  She has her health problems but never complains, she just does what she can and is grateful for the strength, mobility and health she has.  Not that I needed much pushing but she is part of the inspiration for all my travels.  Back in the '50s when going to the Canadian side of Niagra Falls was considered adventurous, she and her husband were driving around Mexico and central America.  They were poor but they knew how to travel on a budget.   With the weak dollar its tough for us Americans to find places to travel to that are not outrageously expensive, South America was far cheaper than the Alps and the Andes gives me a chance to dust off my Spanish too :)  With a little creativity it is possible to travel "lightly".  Anyway, I wish that everyone was as blessed with the friendship of someone from the older generation as I am.  Truly a gift.
Thats it for now!  Cross-training here I come!