Will Becomes Superhero Thor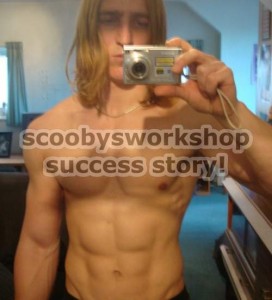 Hi Scooby,
I sent this last year, but just in case you missed it, here it is again… ;-)
First of all I just want to say THANK YOU for all the great work that you do. You have really helped me to transform my body and my life.
I will understand if you can't use me for your success story competition, because I don't have a topless "before" picture, but I wanted to contact you anyway to tell you about the success I've had with your workout programs.
I'm 24 yrs old from Brighton, UK. I've been following your workouts and your blog for nearly 4 years now. Before I started I had an eating disorder, I used to eat on average one meal a day, I was REALLY skinny and unhappy with my body (hence why I don't have any topless "before" pictures). I decided I wanted to gain weight but I didn't want to just put on fat, and being so skinny I felt too intimidated to set foot in a gym, so I started researching bodybuilding online and came accross your website. I am glad to say I have never looked back! Bodybuilding is now an everyday part of my life and I always make sure I get my 6 meals a day (and one of them is usually "egg whites scooby style") :-)
I started off using your beginner plan and soon moved up to intermediate and then advanced. Nowadays I do what you suggest and do heavy weight low rep workout the first week of the month, then the standard 3 sets of 8, then dropsets, and S61XL the last week of every month. I have seen really good gains from this.
The first pic was taken xmas 2008, I weighed 8 stone. The after pics are December 2012, 10.5 stone.
Once again, thank you so much for everything Scooby, I will keep coming back to your advice and your videos, they are the best!
I hope you have a great xmas
All the very best
Will
Hey Will, Congratulations on the incredible transformation.  If there are any Hollywood talent scouts out there, I think Will is a shoe-in for the next "Thor" movie.