Steven Gets Ripped Abs!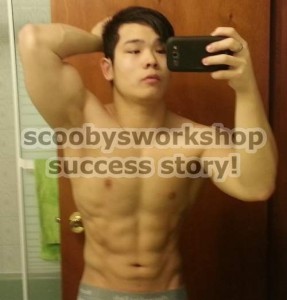 Name: Steven
Age: 20
Location: Hamilton, Ontario, Canada
Pictures taken on:
April 1/2012 weighing 170lbs
April 13/13 weighing 155lbs
Hi Scooby! For as long as I can remember, I've always wanted a six pack, and you helped me achieve it! It's been an amazing journey to get to where I am today, through nutrition and intense training that you've preached, I now have the physique I couldn't have dreamed of having before. Friends and family notice how much I've progressed and my confidence has skyrocketed. I don't know how I could thank you enough for getting me started into fitness and bodybuilding and it's an understatement to say it has changed my life!!
Steven, congratulations on getting those sixpack abs you always wanted … and you didnt have to pay $97 for then either :)  I am sure that your success will inspire your friends and family to follow in your footsteps!  Thanks for being a great fitness ambassador!