Scooby's Reise Durch Europa
Wie Sie vielleicht wissen, habe ich diese website sweat4health und würde sehr gerne mehr europäischen Mitglieder. Deshalb mache ich eine Tour durch Europa um sie zu kennenlernen und auch hoffentlich um sie zu überzeugen Mitglieder zu werden. Sie müssen nicht an sweat4health beitreten, um mich zu treffen, natürlich nicht!
Ich weiß, dass ich eine Menge deutschsprachige Zuschauer haben und Ich freue mich, Sie zu treffen. Ich würde gerne ihre Vorschläge für Video Ideen hören! Wenn meine Videos half Ihnen Fett verlieren oder gewinnen Muskel, würde ich gerne Ihre Fitness Erfolgsgeschichte horen!
Wenn wir uns treffen wurde ich am liebsten deutch sprechen aber wenn sie unbedingt English sprechen wollen, konnen wir das auch.
 Ungefahr 48 stunden im voraus werde die Treffzeiten und Treffpunkten fest gemacht.
We are on a riverboat and are at the mercy of their schedule and why I have no flexibility in changing the cities we visit. Unfortunately, our land schedule is not firm until 24hrs in advance which is why all the times/places list "TBD" until the last minute. I have also had to cancel a number of the cities we are visiting because we have no free times in those cities, sorry. The land itinerary is often quite complex with us being dropped off at one pier then bussing to another city to get back on the boat. The good thing is that many of the cities are very close together.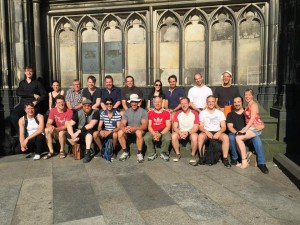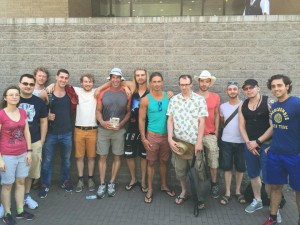 4th of Juli
Amsterdam, Netherlands
13:00
Van Gogh Museum Entrance
5th of Juli
Kinderdijk, Netherlands
10:30
pier
6th of Juli
Koeln, Germany
17:00 Die Südturmdiespitze, 18:00 Haupteingang
Der Kölner Dom
8th of Juli
Miltenberg, Germany
16:30
Altes Rathaus,
Hauptstraße 137
10th of Juli
Bamberg, Germany
cancelled, sorry
cancelled
12th of Juli
Regensburg, Germany
17:00
Dom St. Peter, Haupteingang
13th of Juli
Passau, Germany
14:30
Passauer_Dom
15th of Juli
Vienna, Austria
21:00
Domkirche St. Stephan
16th of Juli
Bratislava, Slovakia
probably have to cancel, sorry.
18th of Juli
Budapest, Hungary
19:00