I will be biking across Sweden from the 17th of August until the 27th of August and I want to meet you, or bike with you!
Sweden Meet and Greets
Currently there are three scheduled meet and greet now but others will be added so please check this page daily during my tour or follow "scoobysworkshop" on twitter to keep up with the latest Sweden meet and greet announcements.  A general note about meet and greets.  If you are not sure if you want to come, PLEASE come.  People stress about these when there is no reason.  No matter if there are only 2 people or 100, we will make it work.  Depending on how many people come, we will move from the designated meeting place to somewhere appropriate for the number of people we have. If there are lots of people then I will move from table to table so I have a chance to talk to everyone.  If you are interested in fitness, lifting, bodybuilding or health then we have a lot in common and I want to talk to YOU.  If you are shy, just sit back and listen.
Thursday 18 August 19:00, Gothenburg Cathedral.  We will meet in front of Domkyrkan Göteborg then, depending on how many of us there are head to a cafe or somewhere else to hang out.
Friday 19th August Stockholm 18:00 Boulebar Rålambshov, Rålambshovsparken.  We will hang out on the picnic tables outside if the weather is nice or go inside if it is raining.
Bike Route (Saturday 20th Aug – Friday 26th August)
My route will be 750km from Stockholm to Gothenburg.  I will departing Stockholm on Saturday the 20th of August and arriving in Gothenburg on Friday the 26th of August.  My route is shown below, 7 days, 750km (460 miles) so that means I need to get 120km a day to be safe (75 miles).  With a light road bike that's easy but with all my camping gear,  its going to be tough.  Me and my kit weigh in at 145kg (320lbs) and weight makes a huge difference in rolling resistance.  Even in good conditions, it's going to a big challenge but a lot will depend on wind and rain.   Rain every day and consistent headwinds means on VERY unhappy Scoobmeister.
Expected Route Across Sweden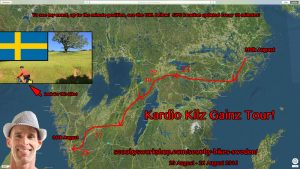 Actual Route Across Sweden
443 miles (712km) biked in 7 days – unsupported ride.   Bike weight with camping gear, food, and water – 110 pounds (50kg).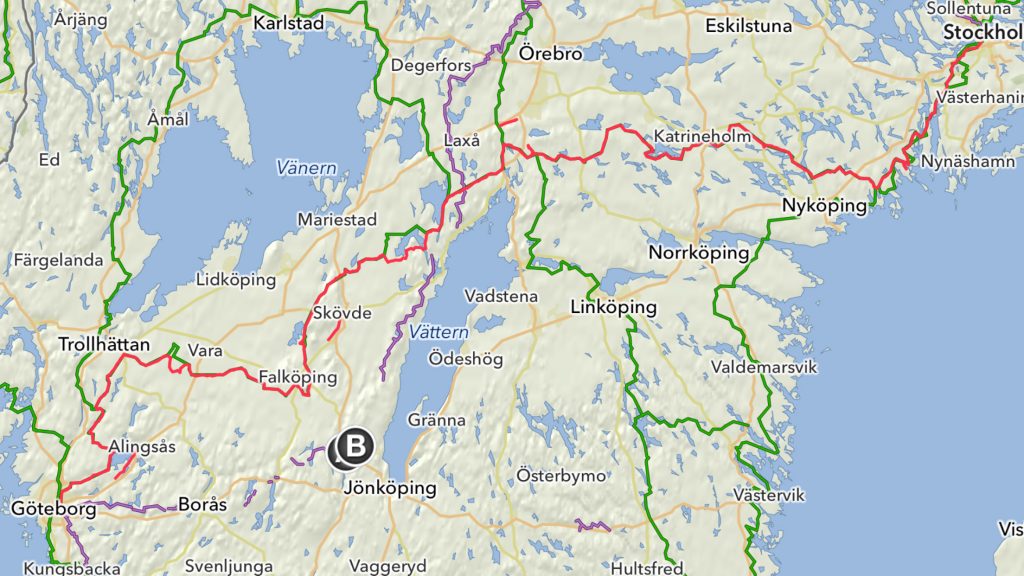 Have coffee with Scooby
Really cool technology I will be using here. In addition to the above meet and greets, I have a GPS search and rescue tracker I will be taking that will send my location every 10 minutes to the map below. This is a satellite system that does not rely on cellphone networks so it will reliably be updated every 10 minutes while I am biking! I also have the ability to push a button on the device that sends out a pre-programmed tweet to anyone following scoobysworkshop on twitter that will say "join me for coffee!" and include a google maps link to where I am. You can bet that pretty much any town I bike thru I will stop for food so if you see me biking toward a city, gauge my progress, and you will know when I am about to send that tweet with my coffee shop location where you can meet me!
Live Location Map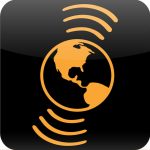 Thats right, you can track me!  I have a search and rescue tracker with me so you can follow me as I bike across Sweden or you can use this map. If you are having trouble finding the meet and greet, just head to where you see the blip on this map! [NOTE: trip over, GPS tracking no longer active]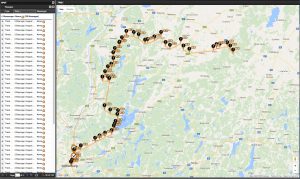 My Bike and Gear
Above is a picture of my bike in action.  Its a steel frame road bike but it has couplings in the frame that allow it to be disassembled into two halves.  This is a real road bike, not a folding bike.  To put it in the case requires about 3 hours of disassembly and careful packing to avoid damage in the airlines.  Below is a photo of my bike and all my camping gear, clothes, workout equipment, and 40 protein bars all ready to check in at the airlines.  Bike is the bigger bag in back.  Camping gear, clothes, workout equipment, and DLSR camera equipment are in the smaller duffle bag in the front.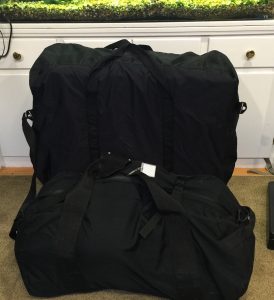 Previous meet and greets