I will be biking thru Austria, Germany, and Switzerland from the 13th of July to the 20th of July. I will be following the EuroVelo 6 route which goes all the way from the Baltic to the Atlantic. I will be starting in Vienna on Friday the 13th of July and will arrive in Zurich on the 19th of July and heading back to Vienna on the 20th for my flight home.
Have coffee with Scooby on his trip!
Just stop along the route ahead of me and wave so I know to stop so we can take photos and chat for a bit – better yet if its near a cafe so we can have coffee together!!!  I will be following the EuroVelo 6 route very closely so if a cafe is on the route, you will see me bike by!!!!  Protein bars and water are always appreciated! If you want to see where I am at any given time on the EuroVelo 6 so you know where to stop:
See where Scooby is RIGHT NOW!
This map uses a emergency GPS tracker to send my precise location every 10 minutes so you will have no trouble finding me if you want to find me on the route to say "Hello!".  Just a warning though, with 8-13 hour cycling I really dont have time for long meals but ALWAYS have time for COFFEE! :)
Here is my itinerary:
| | | | | | |
| --- | --- | --- | --- | --- | --- |
| DATE | FROM | TO | km | vertical(m) | MEET AND GREET |
| Fri 13. July | Wien | Amstetten | 178 | 913 |   none |
| Sat 14. July | Amstetten | Passau | 154 | 822 |   none |
| Sun 15. July | Passau | Regensburg | 144 | 518 |  19:00 Dom St Peter |
| Mon 16. July | Regensburg | Mertigen | 158 | 889 |  none |
| Tue 17. July | Mertigen | Bad Saulgau | 183 | 512 |  none |
| Wed 18. July | Bad Saulgau | Radolfzell | 128 | 1619 |  19:00 Bora HotSpaResort |
| Thu 19. July | Radolfzell | Zurich | 101 | 890 |  19:00 Zurich hbf under the big clock cube |
| Fri 20. July | Zurich | Wien | km | vertical |   none |
| Sat 21. July | Wien | USA | km | vertical | |
| DATE | FROM | TO | km | vertical | |
Biking speed and time
Experience has taught me that I am always WAY too ambitious on these trips and this trip is pretty ambitious. At first glance, doing 180km days (112 miles) doesnt seem that bad. I can easily do 30kph for hours on end so thats only 6 hours of riding, right? I wish! 30kph is ideal conditions and they never are. Add a headwind or a gravel road and the speed drops to 20kph. Rain slows down progress even more and of course, going up hills with heavy packs can slow me down to a near walking pace. Then there are the inevitable detours, stop lights, flat tires, and wrong turns. Throw in a few potty breaks and water stops and suddenly the 30kph average has dropped to under 15kph, and thats without mountains. So realistically, I am looking at 8-13 hours of riding a day – that is a LOT of saddle time.
Is Scooby Crazy?
I ask myself this question all the time! I seriously think something is wrong with me. I have such incredible common sense and planning abilities and yet, when it comes to self-supported cycling trips I seem to simply turn my brain off.
Rather than decide how far I want to ride each day and where I want to stay and then come up with the destination, I do something completely irrational. I simply choose a destination that I think is cool and make it happen. Biking from Melbourne to Sydney in a week nearly killed me and now I am doing exactly the same thing biking from Vienna to Zurich. Although this trip will not have as much climbing, its much more challenging in many respects. The most important way its more challenging is the complete lack of flexibility. Without my camping gear I must stay in hotels or guesthouses and the problem is that it is high tourist season and unless one plans at least a week in advance there is no availability. So basically I have to commit to the daily rides even before I pedal my first mile. The wind will actually determine if I succeed or fail on this trip. If I have headwinds the whole time then I am doomed. As it is I will already be riding 8-12 hours a day and coupled with a headwind, I would simply not make it to my destination. The amount of the route that is gravel roads will also have a big impact on if I can make it or not. You might see an Instagram story from me begging someone to rescue me by picking me up and taking me to my next destination :)
Zurich meeting point
20. July 19:00 Zurich hbf under the big clock cube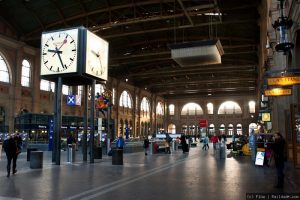 Planning a self supported cycling trip
People ask about this.  Its actually a fair amount of work and involves a few steps. The first is choosing the route which is a long article in itself but following rivers is always the easiest option.  The biggest planning item is logistics.  The easiest way to go is to use a tour -then you dont need to do any of this!  When you go your own there are a lot of issues you need to resolve
Loop or one way
Rent a bike or bring your own
Take everything with you or store un-needed items at the destination or the beginning of the ride.
If its a one way trip, transportation back to where your items are stored
Accommodations – camping or hotels?  Plan all in advance or just book a day or two before?
You really have to enjoy the challenge of a supported trip, otherwise you will be miserable.  You need to have a sense of adventure and the ability to laugh things off as you WILL make stupid mistakes like going to a ferry crossing only to find that it does not run during the summer.  My rule of thumb is that in Asia where I do not speak or read the language I will take organized tours.  In the rest of the world, I do self supported tours because I can :)
This video gives you a little idea of the logistics involved: