Scoobervals, one hour cardio workout!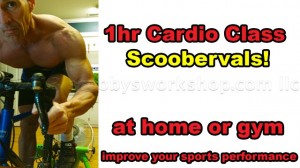 Whether you workout at home or at the gym, this is an awesome cardio workout you can do to improve your sports performance. This workout is for serious athletes and is not appropriate for beginners. If you are a beginner, please see my cardio page for better workout options.  Because we will be doing a lot of work at 100% of our max heart rate, please discuss this with your doctor beforehand.
What you must have: Good cardio equipment: stationary bike, elliptical machine, treadmill, spinning bike, or bike trainer which I have that lets me use my outdoor bike indoors.
Optional but helpful: towel, cooling fan, heart rate monitor, bike computer
Preparation: Start hydrating 1-2 hours before your workout, once you start the workout its way too late to drink water. Calculate your one minute maximum power, not required but helpful.
The Scoobervals High Intensity Interval Training Cardio Workout
This cardio workout can be done on virtually any piece of cardio equipment or even can be done with a jumprope or just with burpees.  To start, please read how to calculate your one minute max power as this is required for doing the workout. Again, remember to check with your doctor before doing this workout.  This is for increasing sports performance in people who are already fit and healthy.  If you are out of shape or new to fitness, please find a form of cardio best for you.

7 min warmup
Speed test (3min)

1 min max speed (note speed at end)
2 min rest

calculate 80% of your one minute max
Repeat 3x (21min)

5 min at 80% max, hold speed 80%
2 min rest

Repeat 5x (15min)
2 min additional rest
Repeat 6x (12 min)
 Workout Profile From Garmin Training Center