New Dad Gets In Shape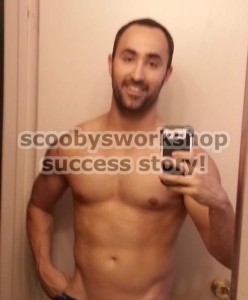 29 years old
Orangevale, California
The before picture was taken May 27th 2010, I was approximately 160lbs
The after picture was taken March 28th 2013, Im now approximately 172lbs
Ive been into weight lifting since I was 17, Ive always wanted a great physique and strove to achieve that over the years. Bad information, injuries and life always seemed to get in the way. I had great gains early on and have never lost those gains, but I also never improved beyond that. I finally got fed up with going nowhere and really resolved to put in consistent training, I wanted to break my streak of only going 6 months without injury or set back. So I started up again using a home gym I had and some free weights. Things were going great until I tried p90x. Which proved way too much for me. A few years before restarting my weight training I had been in a car accident and it has left me with ongoing sciatica, well this got flared up rather badly and all my family wanted me to stop the weight training because the sciatica was affecting my ability to work. So I reluctantly did as I was asked. This was all in 2010, and my progress pic reflects where I was at the peak of my training, just before june when the sciatica took me down for 6 months.
Christmas that year my wife had gotten me a muscle magazine featuring Arnold Schwarzenegger, there was an article briefing several points in his career, and many of them helped me to get past my depression and motivated me to start up again, So in February I went back to weight training changed my diet, mainly eating more chicken, broccoli and potatoes…. really trying to bulk up and it did work, except I was getting fat also. I was gaining a pound or 2 a week and and while the weight sessions were fantastic it didnt stop my waist from growing either. I had bulked to about 185lbs before I got hurt again, Sciatica strikes again. not as severely as before but I was certain it was because I was squatting without a squat rack, just hoisting a barbell loaded up with weight onto my shoulders like an idiot.
I stopped lifting again and became depressed, I sold all the equipment to use the room for my son who would be born January 2012… I again recovered from my injury and in February 2012 I got a gym membership, and about 2 or 3 months into it after hitting 190lbs, I started to notice what I would learn was over training symptoms, as well as a becoming concerned about a waist size that was a 31 going to a 34. After a week of this I started searching online for answers and found your page on over training. From there I have learned about technique, started watching your videos on all my routines, I use many of your exercises in all my workouts, I never do bench press and always pack my shoulders. I took your advice about getting the Anabolic cookbook and do most of my cooking from that source. In that year my body has completely transformed, Im stronger than ever, have great outlook on life and really feel as though there is no problem I cant overcome. My strength has more than doubled and Ive cut out all the supplements I was consuming in favor of your approach. Finding time to work out was easy at first, Id go immediately after work, But as my son got older and my work schedule changed I had to adjust it accordingly. I got better at doing that and have even found ways to move my work outs around to free up weekends if Im going to be busy. I did have to overcome a couple injuries along the way. I hurt my shoulder in august and it took a month to get better, I had to avoid weights for that period of time. Then I developed tendonitits of my thumb. My family again became concerned about the weight lifting, but this time I ignored them, in favor of my dreams and goals. I continued lifting weights and didnt have any problems, except that I discovered that it was work that was preventing the tendon from healing. Finally after 4 months I saw the Dr they pulled my off work and I stopped weights for 1 week. Then resumed my training and my hand got better every week with physical therapy until I was released back to my usual routine. During that time I did more cardio and got pretty lean. The "after" pic I sent is about 1 month after returning to work and doing all that cardio for 2 months.
Thank you scooby for having an awesome website!
Hey Nick, congratulations on becoming a dad and congratulations on making your health a priority!  If anybody is overworked and tight on time, its a new dad, but you didnt use that as an excuse.  Congratulations on making it work.  Working around injuries is a big part of fitness and your sciatica has been a big challenge so I'm glad you have found ways to minimize its problems.