Markus Goes from "A" shaped to "V" shaped!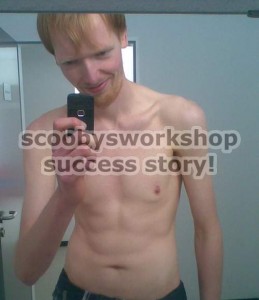 First name: Markus
Age: 21
City/Country: Halle (Saale) / Germany
Date of the before picture: 2nd Oct 2011
Date of the after picture: 13th Apr 2013
Before weight: 95 kg
After weight 80 kg
Dear Scooby,
it's amazing how time goes by in case of the following a goal like this.  Nearly two years have passed since a friend of mine showed me your site and I begin to read about all your hints and advices in your articles.  I have been playing handball and soccer since I was 13 years old. As a teenager I weighed about 120 kilograms and was mobbed by my classmates because I was so fat.  Therefore I had set myself the goal to achieve six-pack abs so no one can ever call me a fat pig or something again.  With a lot of training I started to lose weight till I reached a bodyweight of 95 kilograms.  During my time in school and later at the university I started jogging and with 18 years I trained for long-distance runs.  But nevertheless I wasn't able to achieve six-pack abs either.  Because of your help I realized that it wasn't the intensity of my training that I had to change but my nutrition.  So in Oct 2011 I reorganized my nutritional habits dramatically and started eating a lot of proteins, good fats and vegetables.  It didn't last long till the first accomplishments were visible. It was such an overwhelming feeling that I increased the intensity of my cardio training and maintained my healthy nutrition although a lot of my friends called me crazy and didn't believe in my success.  At the end everyone was able to see the results of the power of will. In my mind this is the most important factor in everyone's life.  I absolutely agree with Alyssa from Santa Ana, California:
If there is a will there is a way. And everyone saying he or she can't do it only hasn't the will to.
I suppose that our mentation determines our performance and we should use this for ourselves.  After achieving my goal "six-pack abs" I started the training for my third half marathon. The last one I run in Berlin on the 7th of April 2013.
Last but not least I thank You, Scooby, for taking responsibility for ourselves, for helping us find a good way to deal with training and nutrition and for being a role model for millions of people, also for me.  I hope that my success story motivates others and shows them that they can realize such success on their own, too.
Thanks for everything.
Markus
Markus, congratulations!  Not only are you athletic, you *look* athletic too – look at those sixpack abs!  Looking at your before and after pictures, its a remarkable visual transformation.  You went from having an "A" shaped torso to having a "V" shaped torso!  Congratulations!!!