Kira Transforms His Physique!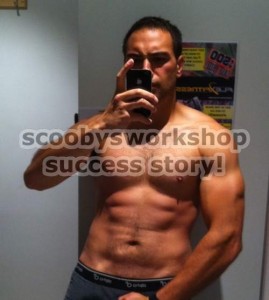 Kia ora Scooby!
# My name's Kira and I'm from Palmerston North, New Zealand.
#
# Thank you so much for all of the information you have put on your website! My fitness journey began back in 2009 when I was about 110kg. Unfortunately I ws a bit too ashamed to have any topless photos back then so couldn't add to this email. I was engaged and wanted to start a family. I ran a bar – so had a pretty bad lifestyle: I smoked, drank heavily, and my diet was horrendous! My fiancée wanted me to think seriously about the way I was living and what kind of role model I wanted to be! With her support, I started calorie counting and doing daily exercise. I dropped down to about 95kg where I hit a bit of a stand still. I thought I looked great (see pic from our honeymoon in Rarotonga) but wanted to get trimmer and add some muscle. I had friends that wanted me to turn to fat burners and all of that "wonderful" stuff but I was certain I could attain a good physique through good eating and hard work. I turned to youtube and the google machine. I eventually stumbled across your videos and in turn your website.
I'm now rocking 81/82kg (see pic) and am really enjoying the science of bodybuilding that you have provided through; entertaining, non-bullshit, open, and best of all – FREE information!!
In the time I have been following you I have taken up triathlons (soon to do the Iron Maori – Google it, we'd love to have you!), supporting my wider family and friends to live better, and take spin classes and circuit classes at my gym.
My family and I thank you from the bottom of our hearts.
"Kia Kaha, Kia Maia, Kia Manawanui" – Be strong, Be Brave, Be Steadfast
Kira
Hey Kira, congratulations on turning back the clock about 20 years with your health transformation.  By lowering your bodyfat, cleaning up your nutrition, and making exercise part of your lifestyle you now have the body of a teenager again :)