Kah turns fat into muscle!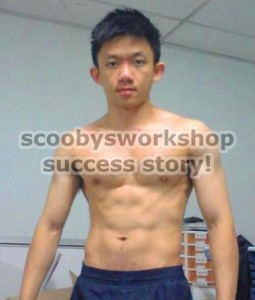 Dear Mr. Scooby,
I'am Kah from Malaysia, attached herewith my data and information for your kind consideration. Sincerely hope you can acknowledge receipt of this email, thank you!
age:28
Penang, Malaysia
before: 8/2012
after: 4/2013
before wt: 141lbs (64kg)
after wt: 130lbs (59kg)
Hi Scooby, I used to think workout is difficult as I hardly find time to go gym. After I checked out your website 8 months ago, I realized having amazing physique is not as difficult as some people claimed and do not need spend much on fancy stuffs. I workout at my own place 2 hours/5 days/week after working hours to avoid jam to gym, followed strict nutrition and the rules of "Gaining muscle & Losing fat". My scale didn't change much but I feel I'm getting stronger and I have to change my size of shirt now! Thank you Scooby for all the useful information!
Hey Kah, congratulations on your transformation!  OK, the title may have been a little misleading because we all know you cant turn fat into muscle like the alchemists of old but you have done what we call "recompositioniong".  Although your weight didnt change that much you lost fat at the same time you added muscle which adds up to *big* changes :)  Congratulations!