Joe gains 20 good pounds!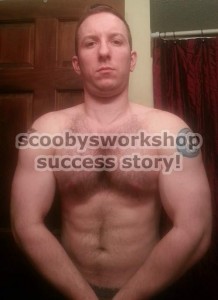 Age: 29
Location: North Waterboro, Maine, USA
Before- Feb 2011
After- Apr 2013
Before- 165
After- 185
I began following your plans shortly after I took my before picture. After changing the way I did several things (including starting your "expert" type program) I began to notice strength gains within the first month. My goal was never to really increase my body size as much as it has been to strengthen myself to protect my joints and just be able to be more functional. Doing the 3-6, 6-8, drop set, and S61XL plans on a weekly rotating basis has helped me tremendously. Last May, I tore my ACL, and had to quit lifting for about 6 months. Since then, I have gotten back into it, and am constantly checking your page to ensure I'm still doing my exercises, and trying to perfect my form, which I consider to be above all else the most important. Luckily, being in the Air National Guard I get an hour a day allotted to work out, so it makes it easy to find time. Overall, lifting has been a huge blessing in my life, as it makes me feel much better about myself, and really helps me stay in shape for the military. I have also learned a lot about nutrition from you, and have just about taken junk food out of my life completely. I enjoy eating my snacks of fruits and veggies much more than my old habit of cereal bars and the like. Just about a month ago I was finally able to quit smoking (which I picked up again after injuring myself.) Thank you for everything you do, Scooby. You have really helped me out a lot.
Thanks for sharing your success story Joe!  Gaining muscle is a very slow process and your hard work shows that it *does* come!  Consistency and hard work got you your great gains, congratulations!