Hicham goes from lanky to muscular!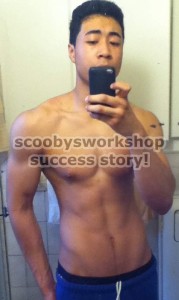 Age: 17
City and Country: Fresh Meadows, United States of America
Before picture taken: June 2, 2012
After picture taken: Feburary 23, 2013
Before weight: 161 lbs.
After weight: 181lbs.
Bodybuilding is a lifestyle that I am infinitely pleased to have adopted. I have always been a skinny, lanky teen who weighed in at around 140 to 150 lbs. Tall and lanky was a body build that I thought I would keep and maintain for my entire life, until on a fateful day, I discovered Scooby on Youtube. At first, it began as an interest. Every morning, I would sit down, eat cereal and watch a few fitness videos by a well-respected and very dedicated man on Youtube who we all lovingly refer to as Scooby. After watching a plethora of Scooby's home fitness videos, I realized that I do not need a gym and results can be made gradually and with a cheap pair of barbells and a set of weighted plates. I rushed out to purchase a set of barbells and never looked back. In only a matter of weeks, I noticed an increase strength and energy. Bodybuilding sparked something inside of me that I had never known possible. Weeks turned into months, and eventually a year. I had gained 20 lbs. of solid mass, gained a ton of confidence and acquired a more optimistic outlook on life. I body build not only for the aesthetics, but for the health benefits as well. I am not a nutrition freak like most bodybuilders, but I believe that eating simple, healthy meals in conjunction with weight resistance and cardiovascular training leads to a more eventful, fuller and enjoyable life. I have not only overcome my self-esteem issues of my lanky body build, but I have also discovered how to manage my time better, earned the respect of my father and achieved something that I never thought I could accomplish: be completely satisfied with my body. Scooby, you've changed my life. For that, I am forever in your debt. Thank you.
Hicham, you rock!  Lanky to muscular in one year!  Hard lifting, solid nutrition, and a little help from a puberty growth spurt all made the "perfect storm".  Congratulations on your gains and your newfound confidence.  Keep it up!