Halloween Costumes For Bodybuilders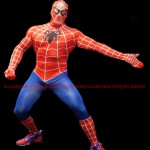 If you have a good physique and don't mind showing it off for Halloween, here are some easy and fun ideas!  The key to a great looking, low stress, and easy Halloween costume is to order the materials early.  Leaving things to the last minute takes you a LOT more time because you end up having to improvise.  All of these costumes are easy BUT you gotta order your supplies at least 2 full weeks before Halloween, and if you are doing the custom lycra Zentai suit, better to allow at least 3 weeks.  If you don't like my three ideas, here are about 1000 other ideas for halloween costumes
 that you can buy from Amazon.  In my opinion, the stock superhero costume
 you can buy are pretty lame – mine are much better!
Easy $10 Halloween Costume
Yep, these stretch fit compression superhero shirts are under $10 but there is a reason you are getting these $50 shirts for $10, its because they are shipped directly from China without a middle man or distribution chain and it can take 3 weeks to get your order. There are probably a lot of places you can buy them, I found mine on aliexpress.com.  The best thing about these is that you can use them for sun protection while biking or running as well!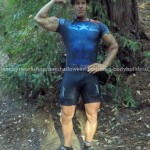 Liquid Latex Superhero Halloween Costumes
Ammonia free liquid latex
can make the best, or the worst, Halloween costume you have ever made.  If you have sixpack abs, it makes the most amazing superhero costume that will stop traffic.  If you do everything right, it makes the most fabulous custom costume.  Doing it right involves shaving your body, having someone ELSE apply the latex, doing multiple coats and letting it fan-dry between coats, applying the non-stick top coat, AND minimizing movement after its done!  Forget about getting into the back seat of a car to drive to a party, it will rip your fabulous costume to shreds.  After you get the costume all superhero activities cease, think, "stand and model" because thats all you can do without destroying the costume.
Superman: blue body latex, red speedo, red latex "S" painted on, red towel or fabric held on with safety pin for cape.
Batman: grey or black latex body with painted on yellow latex bat, black speedo, yellow belt, cheap batman mask.
The Hulk: green latex body, tattered blue jeans mid thigh length.
Captain America: Blue body latex with red and white accent colors, purchased shield, purchased mask.
Spider-man: red and blue body latex with latexed speedo to match – cheap purchased mask.
Prometheus: silver or white body latex and a diaper :)
A 32oz jar of latex costs about $30.  Read about how to apply liquid latex or watch the below video …
The Lone Ranger
| | |
| --- | --- |
| | The Lone Ranger. This costume is one of the more complicated ones because of all the separate components to put together. Its easy though because you don't actually need to *make* anything, just order and put it all together. You can do the costume in black like the original or all white to be a bit different. Works great for couples costumes too, you can have Tonto as your sidekick! So starting at the bottom, the boots make the man and you need real cowboy boots for this costume. Fortunately the white snakeskin western boot cost less than a pair of running shoes as does the black western boot, I have them both.  For the jeans, something with lycra in them like these wrangler jeans works well so you can get them tight and form fitting.  The belts are the most fun and well worth the $18, I use one rhinestone belt for the pants and another, one size larger, to hold the toy gun and holster.  The white bandana you can get anywhere but the hat is a bit tougher.  Getting a nice hat is key to the costume. "One size fits all" hats work with baseball caps but not with stiff cowboy hats so measure your head and buy a sized cowboy hat. |
Custom Superhero Zentai Lycra Bodysuit Halloween Costume
In my opinion, this is the easiest and best looking costume you can get BUT you gotta get it ordered at least 3 weeks before Halloween.  For the price of a store bought costume at the Halloween store, you can get a complete custom tailored suit made you exact measurements you specify.  You can also buy a stock Zentai superhero costumes
in sizes S, M, L, XL, and XXL for about $40 but they wont fit well unless you have an average body.  If you have a bodybuilder physique, either go custom, or get the XL/XXL and use binder clips to take in the waist section.  It will look great from the front and silly from the back, but then, who looks at the back of a superhero? :)  The place I got this custom Zentai suit from was milanoo.com, that was several years ago. 
300 in Rhinestones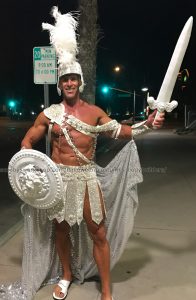 Liberace of the Nile
If you have lots of time and talent, the sky is the limit with costumes.  I can take zero credit for this costume, it was designed and made by a good friend of ours who is a costume designer but shows what is possible.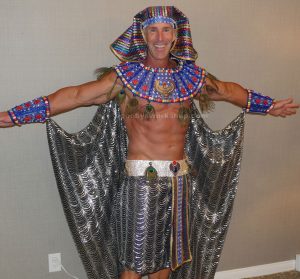 Flashing LED Glow Tube Halloween Costumes
This costume is one that is designed for hot weather or for going dancing.  Both the Zentai bodysuit and the liquid latex costumes above are just not going to work if dancing is in your Halloween night plans because you would die of heat prostration.  Not only that, the Zentai body suit and the liquid latex are fragile and would quickly look like a train wreck after a few minutes of dancing.  This flashing LED glow tube costume on the other hand is perfect for dance floors.  You can go a lot of directions with the glow tubes but the TRON and robot looks work well with it.  The light rope is $8 for 15 feet
Baywatch Halloween Costume For Bodybuilders
This is absolutely the easiest costume around. Grab a red speedo and buy a $10 fake buoy
. Even better if you can get a speedo with a white cross on it … or tape one on. Your chance to one up David Hasslehoff!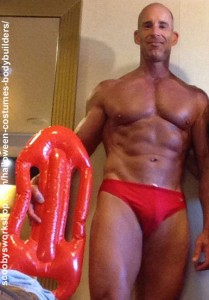 Pirate Halloween Costume For Bodybuilders
Pirate costumes are a dime a dozen. Here is a twist on the traditional pirate costume that works if you dont mind showing off your physique. All you need is a black speedo, which you probably already have, a black pirate hat
, an eye patch
, and of course, a parrot
. Want to make the costume a bit more light hearted? Use some rubber duckys on the hat!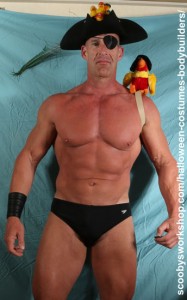 If it wasn't clear before, its crystal clear now, I LOVE HALLOWEEN. I like costumes and I love going out dancing!
Gold Flash Halloween Costume
If you are going out dancing, this costume is the easiest, flashiest,and cheapest one around!!! Mardi Gras, here we come!!!! Seriously, this costume is fabulous. The flashy gold sarong
is from bellydancer.com and is about $25, the gold wings
are about the same price. Wear a black speedo underneath.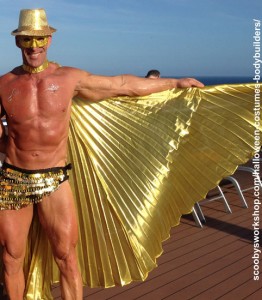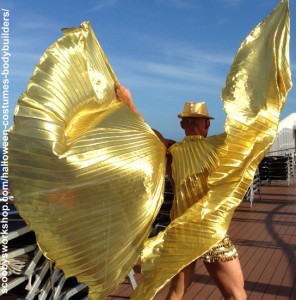 Cute Superhero Costume
Want a funny and cute take on the superhero theme?  Try underwear!  underoos
, that is.  Its the easiest and cheapest way to do superhero costumes.
Sailor Costume for Bodybuilders
Find a white boxcut suit
, add a sailor hat
, and some RedWing Boots
and you have a great Sailor costume!  Don't forget the RayBans!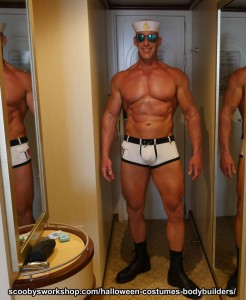 70's Costume for Bodybuilders
I lived thru the 70's and I still enjoy making fun of it!  Some metallic boxcut suit
, an big wig
, and some big glasses and you are there.
Mexican Wrestling Costume For Bodybuilders
Another really easy costume.  You can get really cheap mexican wrestling mask
and then use them with any swimsuit or underarmor tights
you have in your closet. Want to get a little more wild?  Add a mesh tank top
.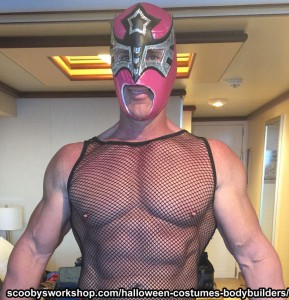 Poseiden
This combines a lot of elements you can buy on Amazon and ETSY. The painted leather crown is from ETSY, the metallic blue/green sarong is from a bellydance website, and the LED wings from Amazon.


Solid Gold
This works for a gold or treasure theme party. The sarong is from a belly dancing website and is awesome for dancing.


Easy EDM Costume
This is really cool and is cheap as well. You can use this costume for EDM concerts or for any party.  The 15′ electroluminescent tubes are $9 for each and you only need two. The  key to applying the EL tubes is to tape the battery box to your boot, wrap up the leg, under the suit, up over the opposite shoulder and down that arm and secure with a "bracelet" of electrical tape.  Immediately after wrapping, apply a piece of electrical tape along the full length of your legs to hold the tubes in place.  You can do it just on the outside of your leg but best to do the inside of your leg as well with the electrical tape.  To secure the arm tubes, run on piece of tape from one wrist, up the outside of the arm, over the shoulders, and down the outside of the other arm.  Secure at each wrist with another bracelet of electrical tape. If you are really going to be jumping around a lot then add some rings of tape around your arms and legs at a few places.  EL hat and bowtie not included :)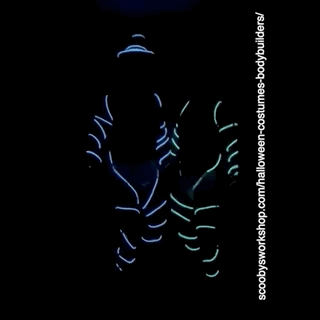 70's theme
There are a lot of fun ways to do 70s theme. This is the Umbro shorts and knee socks. I will have you know that these are original Umbro shorts purchased in the early 1980s.


Lone Ranger
This is a different version of the Lone Ranger. This version has more rinestones and is missing the holster and pistol. Even though I used a toy plastic gun with a bright red tip, you would be surprised the number of parties that would not allow it in. Its kinda funny, a concealed real gun is fine but not a plastic gun with a red tipped muzzle :) Anyway, rather than fight it, I got rid of it.


Superman underwear
Underoos are the worlds easiest and cheapest superman costume!!!


Sailor
This works for a white party or a military theme party.