Gaspard's Recomp Success Story!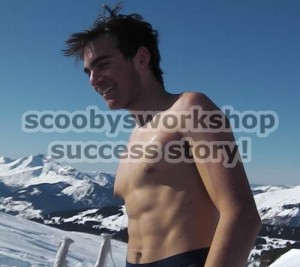 Gaspard
16
Paris, France
September 2011- February 2012
154 lbs – 141 lbs
Hi scooby! before I say anything, i'd like to thank you for putting all this great information online. It's really hard to find GOOD and FREE information online. My first goal when I first started watching your videos was actually just to lose the weight i had gained in the summer, which was about 24 lbs. Two months later, after long sessions of cardio and strict nutrition, I weighed about 133 lbs. The problem was I found myself too skinny, and I was so amazed by my progress that I wanted to take my transformation to a level higher and try to gain muscle. I started with the teen workout program. Even when I had lost my weight I couldn't do more than 10 pushups or one good pullup. After 4 months of hard work, I can now do 60 pushups and 25 good pullups. Even though I haven't gained much muscle weight, I feel a lot greater and have a lot more energy than before. The after picture was taken in the Alps, where I went to ski with a friend. I also felt my stamina was way more important than before when we climbed in the snow with all our stuff to ski lines. I felt so much better than before!! Thanks again scooby!
Hey Gaspard, great illustration of what recompositining is all about!  Not only did you lose fat but you gained strength and muscle as well.  You have gone from "marshmallow" to lean, mean, athletic machine.  Congratulations!