From pear shaped to sixpack abs!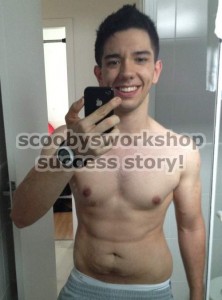 -Caio
-18 years old
Brazil
-The before picture was taken in 02/02/2012 (02 of February of 2012)
-Before weight: 95 Kg
-After weight:70 Kg
-"Hey.. so basicaly this diet and training 'way of living' changed my whole life in just 11 months.. a lot of people just headed to me and said that i was not capable of losing that amount of fat,i still persisted on it and rejected all the negative thoughts.Some of Scooby's recipes helped me alot when i didnt know what to eat and also helped me out on staying away from sugar and simple carbs. Apart from all the bad memories,working out just became a part of my life and i cant imagine myself without the gym anymore. I want to give a huge thank you to scooby for doing all this hard work for free,and if you are just starting out don't worry about results,cause they will come with time. :)
Thank you SO much for sharing your weight loss story!  So many people face the same problem you did – man-boobs and a pear shaped physique.  You did an amazing job of turning that around thru hard work – both exercise and nutrition.  There is no such thing as spot fat removal, just keep at a caloric deficit and you will get there!