From "fat kid" to jock!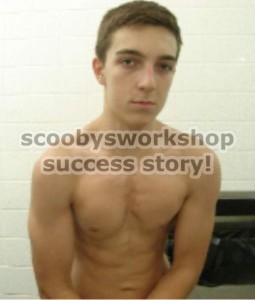 My name is DJ, and I am a 15 year old boy from Canada. I was always chubby in grade school. All the other kids who thought they were cool looked down on me for being the fat nerdy kid. I kept telling myself that I was going to do something but I could never get off the computer or put down the chips to actually try. It was not in till the summer of 2011 that I decided to do something. I did a lot of research and found a whole bunch of youtuber's who sadly led me down the wrong path. After sticking to working out for 9 months, I was still chubby. I had put on a lot of muscle but I couldn't see it because the fat was still there. That's when I found Scooby's channel and shortly after, his website. I followed his four simple steps
1: exercise a bit more
2: eat a bit less
3:drink lots of water
4:sleep
This helped me so much. I also used his calorie calculator to figure out just what I needed to be eating and I was able to lose the weight that I had carried for years in just a few months. If you want to lose weight and need help, look no further, because you are in the right place. At scoobyswork.shop.
Stats for before and after pictures.
DJ
Age: 15
Ontario Canada
before: 8, 2011
after. 8, 2012
before weight: 147
after weight: 130 (but I gained muscle so I lose more than 17 pounds.)
That's it. Thank you scooby for helping me out so much. My goals for this next year is to put on muscle while staying lean at the same time.
(i attached 3 pictures, one is before and two are after. I did not know which of the after ones to use, one is flexing and one is in the similar pose as the before picture. I will leave it up to you which one you want to use if you choose to use them.)
 DJ, thanks so much for sharing your story!  There are SO many people who are in your shoes.  Kids who are overweight in school often get picked on – kis are mean.  You have shown that some hard work and patience can completely turn your physique around.  You may not think of yourself as a jock, but you certainly look like one now :)  Congratulations on your fat loss and your strength and muscle gain.