Dans Complete Life Transformation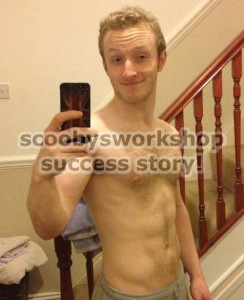 Name: Dan
Age: 24 years old
Location: Newcastle, United Kingdom
Before Picture: January 4th 2010
After Picture: April 24th 2013
Before Weight: 147lbs
After Weight: 160lbs
About Me Paragraph
One day during my 2nd year of University I came to the conclusion that I wasn't happy with my body or my health. I was weedy, a heavy drinker and a heavy smoker. I stumbled across ScoobysWorkshop and it changed my outlook on bodybuilding, fitness and health instantaneously. I watched the videos, followed the routines just like many have before me and I started to see progress. This lifestyle change led me to quit smoking and limit my drinking and I feel so much better both mentally and physically. Last year I was diagnosed with Type 1 Diabetes, if it wasn't for Scooby and his fountain of expert knowledge I would have been in a far worse state to deal with this condition (smoking and poor health causes great complications). Luckily my doctors told me that because I was in great shape my insulin sensitivity was high which means I don't spend as much time as others correcting my doses and I take less of it too. The largest struggle which I'm sure many others have had is the diet side of things. I manage to eat healthily a lot more now, I've dropped from 175lbs to 160lbs , which was all fat. In the past I didn't get the right quantities all the time and my fat intake was too high. Now its my main focus as the workouts are just a daily part of my life and always will be.
Thanks Scooby
p.s. The yellow mark on my shoulder on the before picture is a bruise from an accident I had. I attached a comparison photo along with the separate before and afters, just in case that saves you some time.
p.s.s. You really helped me get my life back on track and I am eternally grateful.
Dan, you rock!  Stopped smoking, stopped drinking, started exercising, and started good nutrition!  Not only do you *look* healthier but you *are* healthier.  Looks like a nasty bruise!  Please stop juggling 50kg dumbbells :)