Craig goes from A-torso to V-taper!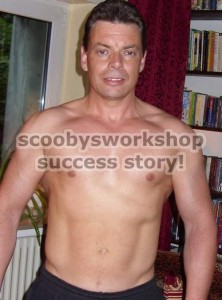 Hi Scooby, my name is craig and i'm 41 years old and 5'6″, i'm english but have been living in germany for the last 22 years.
Came to germany in 1990 with the british army and stayed here ever since.
Sorry i have not got a shirtless before picture but pic1 is a photo from me taken in Dec 2011 as is obvious to see i'm quite overweight, fat tummy and fat face.
Photo2 (82Kg) was taken newyears eve and to be honest this was the foto that really made me get up and do something, after looking at this foto, i just couldn't believe how out of shape i was!!
So i decided to get back in shape and after searching the web for info, i came across your site, via you tube, and loved it, lots of info,workouts, recipes etc (scooby poo bars are great!!)
So 3-4 workouts a week, no alc, sweets, cake,sugar and lots of fruit and veg, tuna,chicken and green tea and lots and lots of cardio (mostly swimming)
Photo3 is after about 3 months (07.05.12) down to 72kg and looking a whole lot better.
Photo4 was taken about a month ago(73Kg) (06.06.12) as you can see shoulders and chest are comming along nicely.
I feel so much better and love my body again and i get alot of complaiments,"heh your looking good craig, you lost weight" or "your looking healthy, have you been on vacation?"
Now down to a 30″ waist (was a tight 32 before) and have bought alot of nice tight T-shirts, which i love wearing every day. Keep up the good work scooby your website is absolutely invaluble to so many people,i appreciate it must be a hell of alot of work for you, but at the end of the day you have the best site out there.
I will send you another foto in 6 months ok,until then aufwiedersehen mein freund :)
Hey Craig,  Congratulations on your weight loss and from converting your torso from an A-taper to a V-taper!  You are living proof that you dont need gadgets, pills, or surgery to get rid of fat – just a bit of sweat and some attention to nutrition.  Sounds like just cutting out the simple carbs helped you on your way to a 30″ waist  – congratulations again!